Delighting our customers
At Canada Post, we strive to do more than serve Canadians – we want to delight both our commercial customers and consumers. Achieving that goal takes more than simply getting items there on time, or offering a delivery experience that is secure, convenient and flexible. It also means enhancing services, offering positive interactions at every touchpoint and resolving problems. We continue to work hard to remain Canadians' preferred choice as their needs evolve.
Our growing Parcels business
While competition is growing, we remain a leader in e-commerce delivery in Canada. Our ability to provide a superior customer experience has anchored our growth. Since 2011, the Canada Post segment has more than doubled its annual Parcels revenue, which has increased to $2.7 billion. During the 2019 peak holiday season, we broke several parcel records such as delivering more than two million parcels in a single day – three times. Yet during this busiest ever peak season, employees also reduced injuries compared to the previous peak season.
Although we operate in a dynamic, competitive, disruptive and unpredictable commercial market, we are well-positioned to continue to grow our Parcels business.
Innovations and enhancements in delivery
Canadian consumers' expectations for a superior delivery experience get higher every year. We're working hard to meet them, in these and other ways:
Parcel lockers:
Shop online? Having a secure parcel locker in your apartment or condo building means you won't have to pick up your parcel from the nearest post office if you're not home when we deliver. In 2019, we installed approximately 4,000 additional parcel lockers – nearly three times more than in any previous year. We now have more than 9,300 parcel lockers. Research tells us that once we've installed a parcel locker, residents shop online more. That's a win-win-win for the consumer, the retailer and Canada Post.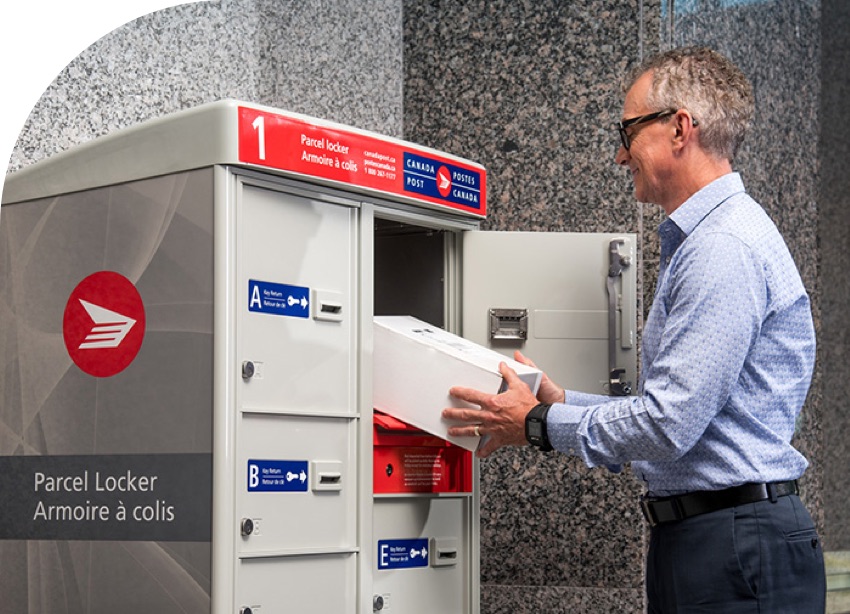 Delivery preferences:
intro
In 2019, we duced the next wave of preferences. These build on the work we did in 2018 to let consumers tell us where they'd like us to safely leave their item, such as their side door or garage. 2019's preferences included:
Pre-paid duties and taxes:
We've launched applications that let consumers pay duties and taxes online for the items being delivered from abroad. It means they don't have to be home to receive and pay for their package or go to the post office. When they enter their tracking number in canadapost.ca, they'll see if they need to pay and simply follow the directions.
Package redirection:
This new self-service tool became available to all commercial customers in 2019. They can now go online to request that a package already in our network be redirected to a different address.
Weekend delivery:
The busiest time of year for retailers, online shoppers and us are the weeks before and after Christmas Day. To meet demand, our employees delivered on the weekend in urban centres. Customers tell us they're grateful to see our delivery agents work on the weekend and bring that much-anticipated gift. In 2019, we delivered 5.2 million parcels on weekends, including 1.1 million on December 21-22, our biggest delivery weekend ever.
We'll continue to enhance our returns program, our customer service communications channels like Chat, and our business customers' online tools, to enhance our end-to-end customer experience.
Canada Post Smartmail MarketingTM
Consumers expect relevant and timely communications, and marketers have more tools and more data than ever before. Businesses that use mail for their marketing aren't buying the delivery of a piece of paper – they're buying an audience. With our deep knowledge of Canadian addresses, layered with billions of additional demographic, interest and behaviour data points, we help businesses find receptive audiences and trigger action.
We are working hard to keep direct mail relevant for marketers. They look to us to inspire and educate them on how to maximize their direct mail. Our Marketing team is sharing market stories that illustrate how successful this product can be: how-to guides, and thought leadership that provokes fresh, innovative ideas. We've developed a comprehensive data strategy to empower, enrich and inspire marketers to integrate Smartmail MarketingTM in their media plan.
One way we are doing that is by building a new digital self-serve tool to help marketers plan, execute and measure their campaigns. Our new tool will bring everything together, in one place, for all our Smartmail Marketing solutions.
Transaction Mail
Letters, bills and statements remain an important part of our business. We call it Transaction Mail, and it generated 40% of the Canada Post segment's operating revenue in 2019 – or $2.7 billion in revenue.
However, Lettermail erosion continues in Canada, as it does around the world, as commercial customers and consumers use digital means to communicate and transact. We continue to support our commercial customers with investment in shipping systems, mail order entry, Canada Post Neighbourhood MailTM campaign management, and other online platforms for mailers to manage and track their mailings more effectively. Mail continues to be an effective, private and often emotional way to communicate. We are looking at ways to not only maintain its relevance, but also renew its meaning in the digital age.