Canada Post celebrates opening of the Canadian Museum for Human Rights with new stamp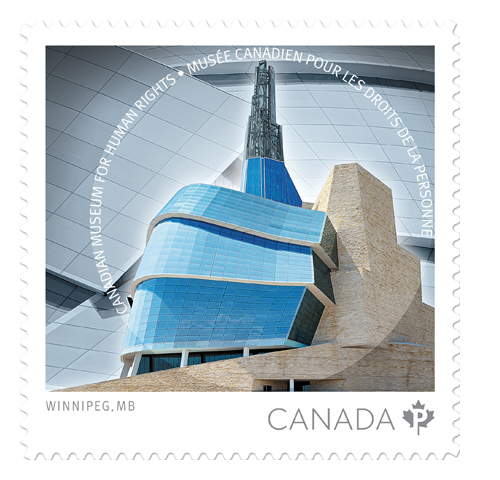 Winnipeg, Man. – Canada Post has issued a new stamp to mark the opening of Canada's new national museum, the Canadian Museum for Human Rights (CMHR), which will welcome its first visitors exactly one month from today. The new stamp, featuring the tower and curving glass façade of the building, goes on sale today.
"The Canadian Museum for Human Rights is the only new national museum located outside the National Capital Region and is unique in the world in its focus on human rights awareness and education," says the Honourable Shelly Glover, Minister of Canadian Heritage and Official Languages and Member of Parliament for Saint Boniface. "It focuses on a theme that Canadians embrace, a theme that generations of Canadians have made great sacrifices to defend. It will stand as a beacon of freedom for visitors from around the globe."
"Canada Post's stamps tell stories of our history, our heritage and our Canadian identity. The Canadian Museum for Human Rights will invite the world to reflect on human rights struggles – both inspiring and tragic – and encourage action for a better future. This stamp commemorates a symbol of our global human rights aspirations, told through a uniquely Canadian lens," says Deepak Chopra, President and CEO, Canada Post.
"When Canadians use this new stamp on their correspondence, they will help spread awareness of the museum and the importance of human rights across Canada and around the world," adds Stuart A. Murray, CMHR President and Chief Executive Officer. "As we prepare to welcome our first visitors, we keep in mind that this unique Museum is distinctly Canadian, yet truly global, as it reflects the important contributions that individuals and peoples have made to advance the cause of human rights."
The Canadian Museum for Human Rights is situated at The Forks in Winnipeg, a meeting place dating back thousands of years at the junction of the Assiniboine and Red rivers.
The building is one of the most innovative in Canada, with architecture that literally leads visitors from darkness to light ‒ symbolizing hope for a changed world. Museum guests enter from the ground, ascending through a series of ramps to encounter galleries filled with human rights stories and the people who lived them, finally reaching the Tower of Hope, a 23-story glass structure that overlooks Winnipeg and the prairie beyond.
About the Stamp
The Canadian Museum for Human Rights Permanent™ rate stamp measures 40 mm x 40 mm and is available in booklets of 10 stamps. The stamp was designed by Adrian Shum, with images from Mike Grandmaison, and printed using lithography in six colours by Lowe-Martin Group. One Official First Day Cover will also be issued, measuring 191 mm x 113 mm and cancelled in Winnipeg, MB.
About the Canadian Museum for Human Rights
The Canadian Museum for Human Rights is the first museum in the world solely dedicated to the evolution, celebration and future of human rights. Using multimedia technology and other innovative approaches, the CMHR will create inspiring encounters with human rights for all ages, in a visitor experience unlike any other.