Carrey, Guimond, Myers, O'Hara and Short Recognized on Comedian Stamp Series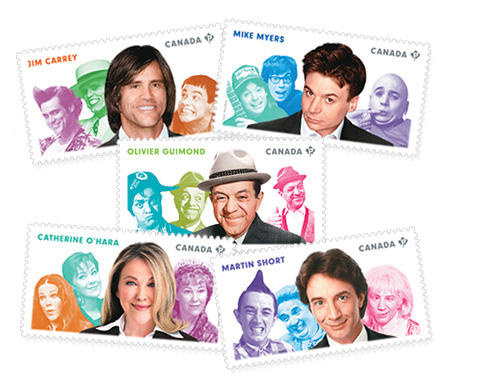 OTTAWA (Ont.) – Today Canada Post is honouring Great Canadian Comedians by issuing a series of stamps featuring them and some of their most memorable roles. The stamps honour the work of Jim Carrey, Olivier Guimond, Mike Myers, Catherine O'Hara and Martin Short, all chosen for their talent in entertaining and making us laugh.
"Canada is the birthplace of some of the world's most successful comedians and our series is about some of the many Canadian comedians who keep us laughing," says Jim Phillips, Director of Stamp Services at Canada Post.
About the stamps
The stamps measure 40 mm x 26 mm and are available in booklets of 10. The five separate Official First Day Covers measure 191 mm x 113 mm and the souvenir sheet featuring all five comedians measures 130 mm x 95 mm. The stamps were printed by the Canadian Bank Note. Kosta Tsetsekas, Mike Savage and John Belisle of the Signals design group designed the stamps. The Official First Day Cover cancellation sites are: Jim Carrey, Newmarket, Ont.; Olivier Guimond, Montréal, Que.; Mike Myers and Catherine O'Hara, Toronto, Ont. and Martin Short, Hamilton, Ont. To download images of the stamps or to purchase philatelic products, please visit canadapost.ca/shop.
Austin Powers: International Man of Mystery; Austin Powers: The Spy Who Shagged Me; Austin Powers in Gold Member; Dumb and Dumber; The Mask:
TM/MC & © New Line Productions, Inc.
Beetlejuice and For Your Consideration:
TM/MC & © Warner Bros. Entertainment Inc.
A Mighty Wind:
TM/MC & © Castle Rock Entertainment
(s14)
Ace Ventura: Pet Detective -
Courtesy of Morgan Creek Productions.