Canada Post marks 100th anniversary of the Royal Montreal Regiment with commemorative envelope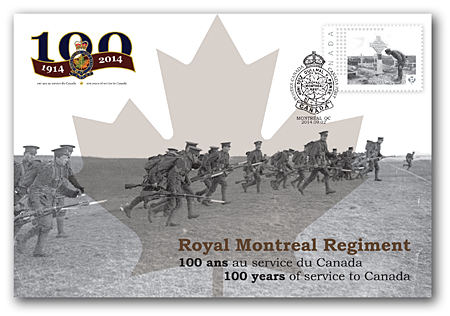 Ottawa (Ont.) – Today, Canada Post is unveiling a new commemorative envelope to celebrate the 100 years of service of the Royal Montreal Regiment (RMR). The envelope, available in select post offices and online, illustrates soldiers charging forward during a training exercise in England in 1915.
The Royal Montreal Regiment is a Primary Reserve Infantry regiment of the Canadian Army, part of the 2nd Canadian Division's 34 Canadian Brigade Group. It was established in August 1914 as a response to the outbreak of the First World War. It was formed with soldiers from three militia units – the 1st Regiment, Canadian Grenadier Guards; The 3rd Regiment, Victoria Rifles of Canada and the 65th Regiment, Carabiniers Mont-Royal. Two were English-speaking and one was French-speaking, giving the Regiment a bilingual heritage.
"The participation and efforts of the Royal Montreal Regiment in several large operations and campaigns over their last 100 years of service has made a tremendous impact and we're proud to issue this commemorative envelope," says Jim Phillips, Director of Stamp Services at Canada Post.
Soldiers from the Regiment were active in both the First and Second World Wars. The Regiment continues to be active in military operations and lends its support to the local community. The Westmount Armoury, home to the Royal Montreal Regiment, is based in Westmount, Montréal, Quebec.
About the commemorative envelope
The Royal Montreal Regiment commemorative envelope was designed by Katie Deering of Canada Post, and 8,000 envelopes were printed by Lowe-Martin Group. The envelope measures 170 mm by 115 mm. The envelope's image was taken during a training exercise in England (1915). The envelope will be cancelled in Montréal, Quebec. To purchase philatelic products, please visit canadapost.ca/shop.