Stamp commemorates "Wait for Me Daddy" photograph made famous as symbol of sacrifices on home front in war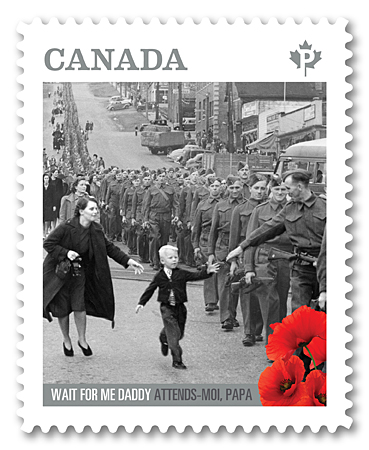 New Westminster (B.C.) – A spontaneous burst of affection and excitement, frozen in time by a newspaper photographer's lightning-fast reflexes, the "Wait for Me Daddy" photograph became famous to a generation.
Now, 74 years later and in time for Remembrance Day, Canada Post has again captured the moment the shutter was snapped, with a commemorative stamp featuring the photograph, accented with poppies.
The story behind the photograph is as remarkable as its enduring power as a poignant symbol of home- front sacrifice in the Second World War.
On October 1, 1940, Private Jack Bernard and other volunteers in The British Columbia Regiment (Duke of Connaught's Own Rifles) were marching smartly down Eighth Street in New Westminster to board a ship and sail off to war. Suddenly, Bernard's five-year-old son broke free of his mother's grasp and sprinted into the military formation to take his smiling father's hand. In that instant, an alert Vancouver Daily Province photographer, Claude Dettloff, snapped the shutter. Soon, his unforgettable image of little Warren "Whitey" Bernard was being printed by leading publications throughout North America. It was later used in Canada's war bond drives with the plea, "help bring my Daddy home."
"It is an honour to recognize this historic photograph, which touched so many Canadians during a global and prolonged conflict that touched and changed countless families," says the Honourable Lisa Raitt, Minister of Transport. "It's a reminder that wars are hard not only on people who serve in uniform or overseas, but also on their loved ones, safe at home on our country's soil."
"Our stamps are carefully chosen to reflect Canada's rich history," says Deepak Chopra, President and CEO of Canada Post. "The 'Wait for Me Daddy' stamp serves as a reminder of the hundreds of thousands of Canadian families who watched people they loved leave home to serve their country."
Today, Warren "Whitey" Bernard, in his 80th year, lives in Tofino, B.C. He is retired after serving in local politics as an alderman, councillor and mayor of Tofino, following many years with a successful business career. His father did survive the war.
About the Stamp
The Wait for Me Daddy Permanent stamp measures 29 mm x 36 mm. The stamps are printed by Canadian Bank Note company on Tullis Russell paper using lithography in six colours. The Official First Day Cover will be cancelled in New Westminster, British Columbia. The stamps are available in booklets of 10 stamps. A souvenir sheet is also available, framed and unframed. To purchase philatelic products, please visit canadapost.ca/shop.