Tradition, Santa's magic highlight 2014 holiday stamps from Canada Post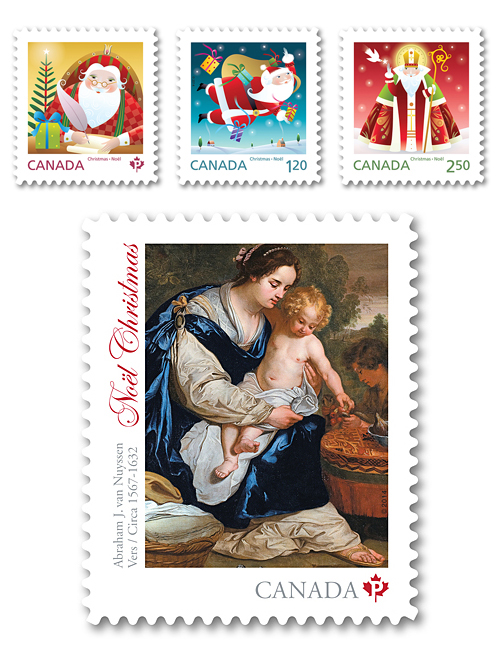 Issue features trio of Santa stamps, painting of Virgin and Child
Ottawa (Ont.) – Canada Post blends the playful and magical essence of the holidays with the sacred tradition of Christmas with its latest holiday stamp issue, released today.
For 2014, the ever-popular holiday issue will strike a chord with Canadians from coast to coast and bring a smile to the recipients of the millions of holiday cards sent and received each year by Canadians.
The issue features three whimsical and colourful depictions of Santa Claus, a symbol of the holidays for much of the world. Santa stamps are available for domestic, U.S. and international rates. Each stamp shows Santa performing his many important tasks.
"In each of the three figures, the kindness and generosity of Santa emerges," says stamp designer Hélène L'Heureux. "Whether he's answering letters, handing out gifts, or simply expressing peace and serenity, Santa is endearing, merry and timeless."
The fourth stamp in the issue – a PermanentTM domestic stamp – features a beautiful detail that shows a classic 17th century painting of the Virgin and Child. The painting is part of the collection at Basilica Cathedral Notre-Dame de Québec in Quebec City. This year's stamp issue recognizes the parish's 350th anniversary.
The festive issue helps Canadians add a special touch to their holiday mailings. Many customers also use custom photo stamps to express themselves during the holidays and for other special occasions. Customers can use the Canada Post Picture PostageTM service at any time to create unique, cheerful and memorable stamps for their family, friends and clients. Picture Postage is available at picturepostage.ca and on Canada Post's free mobile app.
About the stamps
All three Santa stamps (domestic, U.S. and international) measure 22 mm x 24 mm, are pressure sensitive, and are printed by Lowe-Martin using lithography in six colours. The Santa stamps were designed by Hélène L'Heureux and illustrated by Christiane Beauregard. The domestic stamps are available in booklets of 12 stamps and the U.S. and international stamps each in booklets of six. A souvenir sheet of all three stamps is also available; these stamps have simulated perforations and use PVA gum. The Official First Day Cover was cancelled in Saint-Nicolas, QC.
The Virgin and Child stamp measures 26 mm x 32 mm, has simulated perforation and was printed by Lowe-Martin using lithography in seven colours. The stamp was designed by Louise Méthé from a painting by Flemish Baroque painter Abraham Janssens van Nuyssen. The Official First Day Cover was cancelled in Québec, QC. The Permanent domestic stamp is available in booklets of 12. To purchase philatelic products, please visit canadapost.ca/shop. For the Canada Post Picture Postage service, please visit picturepostage.ca, or download the free Canada Post mobile app – available on all platforms.
About Canada Post
Canada Post is the country's leading provider of electronic commerce and customer communication solutions. It reaches 15.5 million addresses, operates the country's largest retail network, and offers affordable and reliable service with convenient pickup and return options for online shoppers. Together, Canada Post, Purolator Inc. and SCI Logistics offer market-leading end-to-end solutions for e-commerce shippers by leveraging the assets and expertise of the Canada Post Group of Companies.