Canada Post stamp issue welcomes Year of the Ram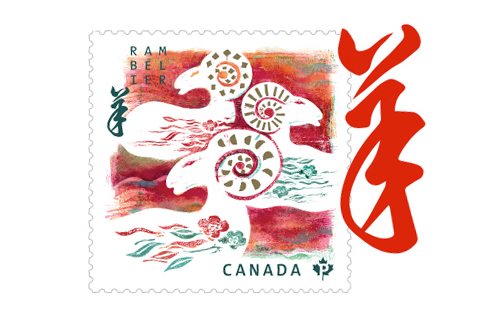 Ottawa (ON) – In its seventh release in a 12-year series, Canada Post honours Lunar New Year with a pair of stamps commemorating the Year of the Ram, a time marked by creativity, caring, sensitivity and transforming misfortune into good luck.
The domestic stamp showcases three rams welcoming spring, a popular New Year's image, especially at the start of the Year of the Ram, which begins on February 19, 2015 and ends February 7, 2016. An internationally denominated stamp, souvenir sheets and other philatelic products are also available for this popular series.
"Our Lunar New Year issue is a perennial favourite with collectors and consumers alike," says Jim Phillips, Director of Stamp Services. "We're very proud that the many designers who have worked on this issue have managed to balance a series 'feel' while keeping the design fresh and new every year."
About the Stamps
The Year of the Ram domestic and international stamps measure 32 mm by 32 mm and the souvenir sheet measures 40 mm by 140 mm. Domestic stamps are available in a pane of 25 and international stamps are sold in booklets of six. The stamps are also available in an uncut press sheet. Single and souvenir sheet Official First Day Covers with Richmond Hill, Ontario as the cancellation site complete the issue. The stamps were designed by Hélène L'Heureux at Interaction Design and illustrated by Susan Scott with calligraphy by Ngan Siu-Mui. The series was printed by Lowe-Martin. The stamps variously incorporate foil and embossing and are tagged on all sides. The text on the stamps is in Traditional Chinese, English and French.