Canada Post pushes envelop to issue Canada's first fabric stamp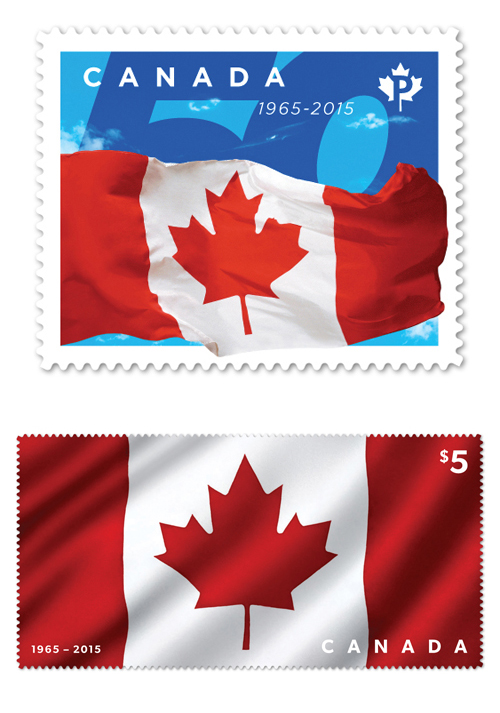 Two new stamps celebrate 50th anniversary of Canada's flag
OTTAWA (Ont.) – Pushing the boundaries of stamp production, Canada Post has created Canada's first fabric stamp as a fitting celebration of the 50th anniversary of the Canadian flag, a symbol cherished at home and widely recognized and respected abroad.
Denominated at $5, the innovative stamp uses a satin rayon fabric and special ink to create a durable and spectacular image. Canada Post is also issuing a celebratory PermanentTM rate stamp that showcases an undulating flag with a blue sky and "50" in the background.
"Our flag is a symbol that resonates with Canadians the world over," says the Honourable Lisa Raitt, Minister of Transport, responsible for Canada Post. "When we see our flag at home, it reminds us of our freedoms and values, and when we see it abroad, it reminds us of home."
"The flag has become part of the fabric of our lives," says Deepak Chopra, President and CEO of Canada Post. "As these stamps travel far and wide, they will be a fitting tribute."
The flag was flown in public for the first time on February 15, 1965, at an inaugural ceremony before a crowd of thousands on Parliament Hill. It was immediately and enthusiastically embraced – but it had been borne of emotional debate. The first version had been sewn on short notice by a young amateur seamstress, Joan O'Malley, who was asked by her father, a senior civil servant, to sew prototypes during Canada's flag debate. Her prototype flags helped bring Canada closer to the maple leaf.
Canada Post's tributes to the flag were designed by Kosta Tsetsekas, a veteran stamp designer at Signals, a Vancouver design firm. He and the printer, Canadian Bank Note, collaborated on the painstaking production details of the fabric stamp. A series of tests refined the application of the ink on the fabric and ensured the die cutting would be precise. The result of this extensive planning is a consistently stunning production run that showcases the flag on fabric.
About the stamps
Canada Post is issuing two stamps to celebrate the anniversary of the flag. Canada's first fabric stamp, printed on a satin rayon fabric, is a self-adhesive $5 stamp that measures 100 mm by 50 mm and is available as a souvenir sheet or affixed to an Official First Day Cover (OFDC) cancelled in Ottawa. One thousand limited edition uncut press sheets, signed by the original seamstress, Joan O'Malley, are also available to mark the occasion. In addition, a Permanent self-adhesive commemorative stamp that measures 40 mm by 32 mm is also available in booklets of 10 or affixed to an OFDC, also cancelled in Ottawa, ON.