Works of Canada's best photographers explored further with new set of stamps
Series traces history of photography over the past 150 years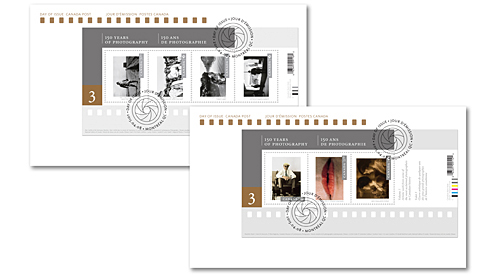 Series traces history of photography over the past 150 years
Ottawa (Ont.) – Seven more of Canada's best photographers will be celebrated tomorrow as Canada Post releases the third issue of stamps in a five-year series on photography. The work of Nina Raginsky, Sam Tata, Geoffrey James, Larry Towell, Geneviève Cadieux, Conrad Poirier and Harold Mortimer-Lamb was carefully selected with the assistance of leading curators and gallery owners to showcase some of the quintessential Canadian photographs of the past 150 years.
Nina Raginsky began taking photographs in 1962 with her father's Nikon F – the only camera she ever owned. She is known for her portraits of people she has encountered as a street photographer in Montréal and throughout Quebec, as well as in Mexico, England, Vancouver, Victoria and other parts of British Columbia. She is an officer of the Order of Canada and her work appears in the National Gallery of Canada. Selected for this series is Shoeshine Stand, shot in Vancouver, B.C., in 1974.

Sam Tata is a photojournalist and portrait photographer who immigrated to Canada in 1956. His portraits of Canadian artists, writers, poets and photographers are an important contribution to Canadian photography. In 1989, he was the subject of a retrospective exhibition at the Canadian Museum of Contemporary Photography. Selected for this series is Angels, shot on Saint Jean-Baptiste Day in Montréal, Que., in 1962.

Geoffrey James was born in Wales and immigrated to Canada in 1966. James took the portrait Alex Colville on the Tantramar Marshes, selected for this stamp series, in 1970 while he was writing a profile of the Canadian painter for Time Canada. His work shows the effects people have had on the land, from asbestos mining in Quebec to the border between the U.S. and Mexico at Tijuana. In 2012, he received a Governor General's Award in Visual and Media Arts.

Larry Towell began travelling the world in the early 1980s to document the struggles of the landless and dispossessed in the most prominent uprisings of the time. The photographer, poet, film maker and musician is the author of 14 books of photography and is the recipient of numerous international awards, including the inaugural Henri Cartier-Bresson (France), le prix Nadar (France), the Leica Oskar Barnack (Germany) and several World Press accolades (Holland). Towell was Canada's first member of the prestigious Magnum Photo Agency and is one of the most decorated Canadian photojournalists. Selected for this series is Isaac's First Swim, shot in Lambton County, Ontario, in 1996.

Geneviève Cadieux presents the body as a landscape, focusing on small details such as a bruise or scar in extreme close-ups. A woman's red lips are the subject of the photograph selected for this stamp series, La Voie Lactée. Cadieux is also interested in the way art integrates into the urban environment. Many of her works are installed in public spaces. She is a winner of the 2011 Governor General's Award in Visual and Media Arts.

Conrad Poirier. Born in the Montréal area in 1912, Poirier freelanced for newspapers such as La Presse, the Gazette, Le Samedi and La Patrie, capturing images of sporting events as well as popular entertainment artists. His celebrity photographs defined him as an early paparazzo. He shot many well-known event and street photographs between 1936 and 1946, work he called his "New Vision" photography. Selected for this series is Friends and Family and Trips. In front of Simpsons, shot in in Montréal in 1936.

Harold Mortimer-Lamb was a Renaissance man who worked as a mining engineer, journalist, art critic, photographer and artist. Mortimer-Lamb came to Canada from England in 1889, settling in British Columbia. While his professional life was devoted largely to mining, he developed an early interest in photography, specializing in soft-focus romantic portraits. After relocating to Montréal early in 1900, he later returned to Vancouver where he opened an art gallery and began to paint. Selected for this series is Southam Sisters, c. 1915-1919.

About the stamps
The stamps measure 36 mm x 30 mm (horizontal) and 30 mm x 36 mm (vertical) and are available in booklets of 10 domestic stamps and of six U.S. and International denominations. Two souvenir sheets (one of one vertical stamp and two horizontal stamps; one of four horizontal stamps) measure 150 mm x 75 mm. They were printed by Canadian Banknote and designed by Stephane Huot. The Official First Day Cover cancellation site is Montréal, Quebec. To download images of the stamps or to purchase philatelic products, please visit canadapost.ca/shop.