Dinosaurs come to life on Canada Post stamps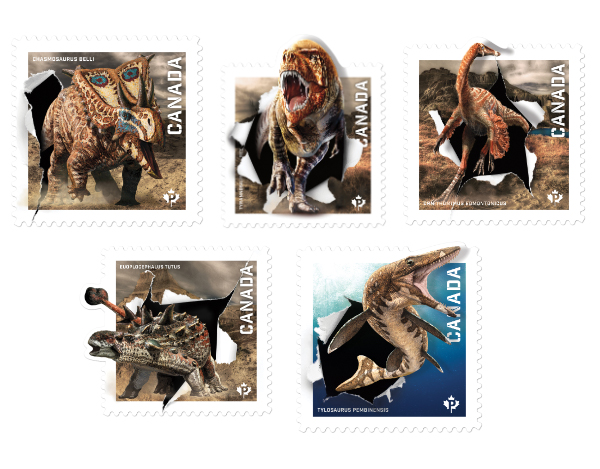 Ottawa (Ont.) – With a unique 3-D-like design that breaks through the boundaries of a typical stamp, Canada Post brings to life five prehistoric animals that once roamed Canada. The prehistoric beasts in this new stamp issue – Dinos of Canada – range from Tyrannosaurus rex, depicted in a light feathery coat with cavernous jaws agape, to Euoplocephalus tutus, whose tail ended in a massive club.
"Canada's rich geography and spectacular landscape define this country and who we are," says the Honourable Lisa Raitt, Minister of Transport, responsible for Canada Post. "We have a special fascination for the creatures that walked this land in the ancient past. With these stamps, we rediscover the magic they hold for us."
"Canadians young and old marvel at these wonders of nature and will be intrigued to discover in this stamp issue fascinating clues to the lives these dinosaurs lived," says Canada Post President and CEO Deepak Chopra. "Our stamp program tells Canada's story. This is a story like no other."
The animals pulse with life, charged by the multilevel embossing and holographic foiling used in most of the designs. They tear their way through barren background images of Dinosaur Provincial Park, one of Canada's richest sources of dinosaur fossils.
Wild-eyed and sharp-toothed, the creatures are vividly illustrated by highly regarded paleoartist Julius Csotonyi of Vancouver. Design is by Andrew Perro of Toronto, who has designed several Canadian stamps.
"It was important to strike an effective balance in pose and colour patterns that were gripping and imposing yet scientifically accurate or plausible," says Csotonyi, an award-winning natural history illustrator and biological sciences graduate.
Canada has proven a rich hunting ground for dinosaur remains, with discoveries made from the badlands of Alberta to the Bay of Fundy area. The finds selected for this stamp issue were made in Western Canada and chosen in consultation with the Canadian Museum of Nature.
The animals depicted are:
Tylosaurus pembinensis, a giant sea-dwelling reptile that could open its jaws wide like a snake and swallow large prey. It patrolled the inland sea that divided North America 80 million years ago. A skeleton displayed at the Canadian Fossil Discovery Centre in Modern, Man. is the largest mosasaur skeleton on exhibit in the world. Nicknamed "Bruce," the centre refers to it as "the T. rex of the sea."

Chasmosaurus belli, a relative of the famous Triceratops. Its large frill was supported by a bony framework that was likely used for display, not defence. A baby Chasmosaurus was recently found in Dinosaur Provincial Park. It was less than three years old when it died.

Tyrannosaurus rex, the "tyrant king" of dinosaurs.High school teacher Robert Gebhardt discoveredone of the largest and most complete skeletons of its kind in Saskatchewan in 1991. The skeleton has been nicknamed "Scotty."

Ornithomimus edmontonicus, now known to have sported long arm feathers. It used its speed to outrun predators and to hunt for prey, which included small lizards and mammals.

Euoplocephalus tutus, an herb-eater that was known for its spiky, plated armour. Its complex and unusual series of nasal passages may have warmed inhaled air, improved the animal's sense of smell or helped it vocalize.

About the stamps
While each stamp frame is 28.5 mm x 28.5 mm, the dinosaurs burst out in varying configurations. The stamps are available in booklets of 10. They were printed by Lowe-Martin and designed by Andrew Perro with illustration by Julius Csotonyi and photography by Judy Arndt. The souvenir sheet of five stamps measures 159 mm x 65 mm. The uncut press sheet of eight souvenir sheets measures 608 mm x 358 mm and features an enlargement of the T. rex that appears on the stamp. The cancel image on the Official First Day Cover is that of the Ornithomimus edmontonicus. The cancellation site is Drumheller, Alta., home of the Royal Tyrrell Museum of Paleontology, one of Canada's most important dinosaur museums.