Sinclair and Buchanan on stamp as Canada hosts FIFA Women's World Cup 2015™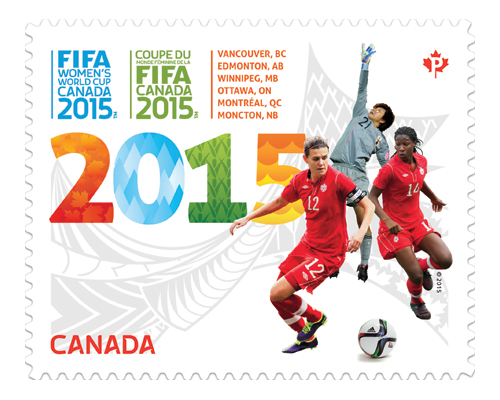 EDMONTON (Alta.) –Canada's most accomplished women's soccer player and a rising star on the Canadian squad are both captured in action on a new stamp to mark Canada's hosting of the FIFA Women's World Cup Canada 2015™. The stamp, featuring Canada's Christine Sinclair and Kadeisha Buchanan, will be issued on May 6 in post offices across the country, but is now available for pre-orders online.
Canada will be welcoming the top 24 nations in a total of 52 matches in six host cities: Vancouver, Edmonton, Winnipeg, Ottawa, Montréal and Moncton. Canada and China will play in the Opening Match of the FIFA Women's World Cup Canada 2015™ on Saturday, June 6 in Edmonton, and the Final will be played in Vancouver's BC Place Stadium on Sunday, July 5.
"Women's soccer has generated memorable and dramatic performances from Canadians giving everything they have at the sport's highest levels," says the Honourable Lisa Raitt, Minister of Transport and responsible for Canada Post. "This competition will showcase athleticism and passion for the game – and so do the images on this stamp."
"The stamp commemorating the FIFA Women's World Cup Canada 2015 is a tribute not only to these outstanding athletes and soccer's world-wide appeal, but also to Canada's strength and leadership in playing host to competitions that attract the best of the best," said the Honourable Bal Gosal, Minister of State (Sport).
"Canada Post is highlighting these athletes and the most prestigious tournament in women's soccer," says Deepak Chopra, President and CEO, Canada Post. "At the same time, we are celebrating the incredible advancements that the women's game has made in Canada, on the field and in fan interest."
Sinclair, the all-time leader in international appearances for Canada, has scored more than 150 goals in international play. A two-time Olympian, she led Canada to an Olympic bronze medal in the 2012 London Games. Her performance included three goals in one game against the U.S. team, which went on to win the gold, and she carried Canada's flag at the closing ceremony. This will be her fourth consecutive FIFA Women's World Cup™ competition.
Buchanan has been called "the (Christine) Sinclair of defenders" by Canada's head coach, John Herdman. She was a standout for Canada in the FIFA U-20 Women's World Cup, which Canada hosted in 2014. She plays with a perennial college soccer powerhouse, the West Virginia University Mountaineers. The authoritative TopDrawerSoccer.com ranks Buchanan No. 6 among collegiate and non-professional women players in the U.S. – and No. 1 in her NCAA division.
"The FIFA Women's World Cup Canada 2015 will be a game-changer for women's sport in Canada," said Peter Montopoli, General Secretary of the Canadian Soccer Association and CEO, National Organizing Committee FIFA Women's World Cup Canada 2015™. "Today, these two wonderful Canadian athletes have been stamped into history and will forever serve as symbols of Canada's contribution to the greatest event in women's sport."
Emblematic of the players coming to Canada from around the world, Ayumi Kaihori of Japan, a goalkeeper who has appeared in 24 international matches, also appears on the stamp.
About the stamp
The pressure-sensitive stamps available in booklets of 10 measure 40 mm x 32 mm (horizontal). They are designed by Debbie Adams of Toronto and printed by Lowe-Martin on Tullis Russell paper using lithography in eight colors. The Official First Day Cover will be cancelled in Edmonton, Alta., site of the opening game. A collectible plaque showcasing the players along with a mint stamp is also available. To download the image of the stamps, please click here. To purchase philatelic products, please visit canadapost.ca/shop.
About the FIFA Women's World Cup Canada 2015™
From June 6 to July 5, 2015, the FIFA Women's World Cup Canada 2015™ will be hosted in Canada with matches to be played in Vancouver, Edmonton, Winnipeg, Ottawa, Montréal and Moncton. This will be the first time that Canada hosts an international sporting event from coast to coast. Recognized as the most important international competition in women's soccer, the upcoming competition will unite soccer fans worldwide while giving Canada an opportunity to embrace the best in women's sport.
Information related to the competition, including the Ticketing and Spectator Guides, is available at www.FIFA.com/Canada2015. Fans are encouraged to share their excitement by sharing photos and videos on the FIFA Women's World Cup Facebook and Twitter (@fifawwc) pages using hashtags #fifawwc #BeThere #Canada2015.
For more information:
Media Relations
613-734-8888
medias@canadapost.ca