Enduring elegy by combat surgeon featured in new stamp
John McCrae's In Flanders Fields was written 100 years ago to honour both one close friend and countless war dead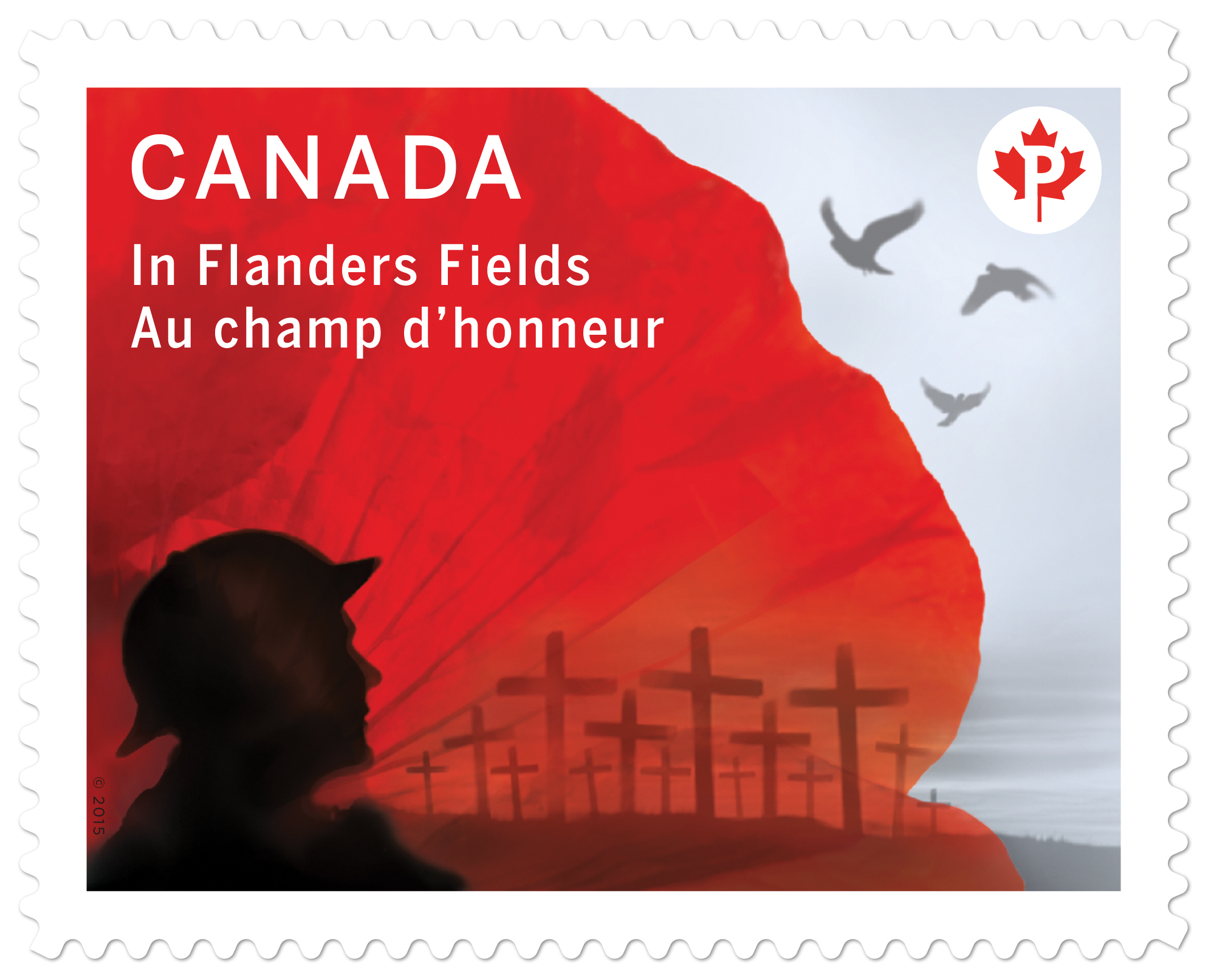 John McCrae's In Flanders Fields was written 100 years ago to honour both one close friend and countless war dead
Ottawa (Ont.) – Canada Post will issue a stamp to mark the 100th anniversary of the poignant poem that made the poppy an international symbol of wartime sacrifices and has been recited in ceremonies for a century.
On May 3, 1915, in the First World War's Second Battle of Ypres, Canadian combat surgeon John McCrae was grief-stricken at the death of a friend and comrade, and overwhelmed by the sheer carnage and death around him. He wrote In Flanders Fields to express his sorrow and commemorate Lt. Alexis Helmer and the thousands of other soldiers dying in that conflict.
In Flanders Fields was first published 100 years ago, in December 1915, in England's Punch magazine. It became perhaps the most popular poem from the First World War and inspired the choice of the poppy as a symbol of the sacrifices made in that and subsequent wars. To this day, the poem is recited at Remembrance Day services in Canada and around the world. It and its French-language adaptation, Au Champ d'honneur, are engraved on marble plaques in the Memorial Chamber inside the Peace Tower on Parliament Hill.
"Both John McCrae and his poem are national treasures," says the Honourable Lisa Raitt, Minister of Transport and responsible for Canada Post. "The poem has become an emotional touchstone as a means of remembering the sacrifices of those who served so that we may be free."
"Our stamps reveal what is of value to Canadians – including what bonds us from one generation to another. This poem is written indelibly on our hearts in a way that helps us honour those who gave their lives in the service of this country," says Deepak Chopra, President and CEO, Canada Post.
Designed by Janice Carter and Tejashri Kapure of q30, the stamp is based on iconic imagery drawn from the lines of the poem, with images of crosses "row on row," of singing larks and of the fragile red poppy, which appears with the permission of the Royal Canadian Legion. A five-stamp mini pane features the poem in the author's handwriting – in a version that varies slightly from that made famous by Punch.
Lt. Col. McCrae was himself an indirect casualty of war; he died on January 28, 1918, of pneumonia and meningitis. In 1968, 50 years after his death, the Post Office Department (now Canada Post) issued a stamp that paid him tribute.
About the stamps
The pressure sensitive stamps available in booklets of 10 measure 40 mm x 32 mm (vertical), while the five-stamp mini pane (water-activated gum) has 13 + perforations. They are printed by Lowe-Martin on Tullis Russell paper using lithography in six colours. The official first day cover will be cancelled in Guelph, Ont. To download the image of the stamps, please click here. To purchase philatelic products, please visit canadapost.ca/shop.
For more information:
Media Relations
613-734-8888
medias@canadapost.ca