New stamps aim to promote awareness of responsible pet ownership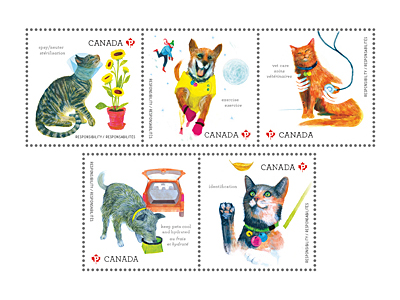 Ottawa (Ont.) – Canadians love their pets – including some 10 million cats, 5.5 million dogs and plenty of rodents, reptiles, birds and fish. Love Your Pet: Responsible Pet Ownership is a colourful new stamp series that offers reminders of the importance of spaying or neutering, regular visits to the veterinarian, proper nutrition, creating comfortable surroundings, and plenty of play, exercise and attention. Like the popular 2013 "Adopt-a-Pet" stamp set, this issue was produced with the guidance of the Canadian Federation of Humane Societies (CFHS).
"Companion animals enrich our lives and bring us joy and happiness on a daily basis. With this stamp issue, we hope to create broader awareness of what it takes to keep pets happy and healthy," says Jim Phillips, Director of Stamp Services at Canada Post.
"These stamps artistically demonstrate some of the important ways that we can ensure that our companion animals receive the physical and emotional care they deserve," says Barbara Cartwright, Chief Executive Officer, Canadian Federation of Humane Societies.
The animals in the bright, lighthearted artwork all show warmth and express personality in scenes where they are cared for responsibly. It's a visually appealing and celebratory way of illustrating the pets in our lives, while reminding us about ways of keeping them safe, healthy and happy.
The stamps were designed by Lara Minja and illustrated by Genevieve Simms with a whimsical and colourful brushstroke-style. The stamps will be unveiled at the opening of National Animal Welfare Conference, which will be held from May 2-5, 2015, in Richmond, B.C.
About the stamps
The stamps are available in booklets of 10 measure 24 mm x 39.5 mm (vertical), 40 mm x 39.5 mm (vertical), 24 mm x 32 mm (vertical), and 24 mm x 24 mm with simulated perforations, while the souvenir sheet has 13+ perforations. They are printed by Lowe-Martin on Tullis Russell paper using lithography in six colours. The stamps are pressure sensitive. The Official First Day Cover will be cancelled in Richmond, B.C., the location of this year's National Animal Welfare Conference. To download the image of the stamps, please click here. To purchase philatelic products, please visit canadapost.ca/shop.
For more information:
Media Relations
613-734-8888
medias@canadapost.ca