Stamp celebrates Alice Munro, Nobel Prize-winning writer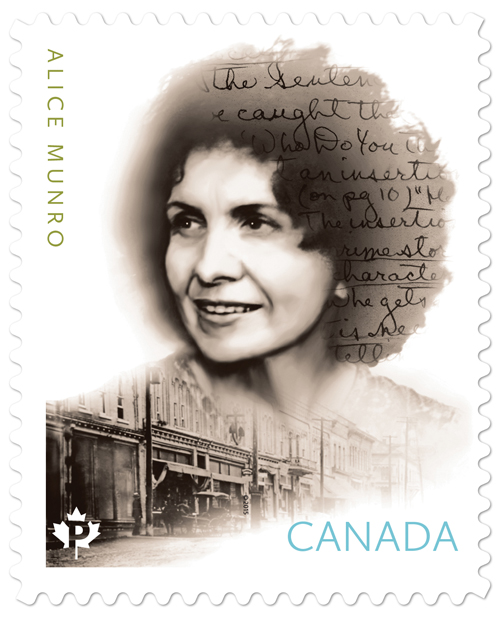 OTTAWA – Alice Munro, the recognized master of the exquisitely honed short story and the first Canadian woman to be awarded the Nobel Prize in Literature, is celebrated on a new stamp that pays homage to elements of her work.
The stamp incorporates a photograph of Munro that was taken by her daughter Sheila, a sample of the author's handwriting from archival material, and vintage images of Wingham, Ont., the small town in which Munro was born. Many believe that Wingham inspired her fictional town of Jubilee, in which many of her stories are set. The stamp was designed by Marcio Morgado and Paul Haslip of Toronto's HM&E Design.
"Alice Munro is not only one of Canada's most critically acclaimed writers but also one of the most popular," says the Honourable Lisa Raitt, Minister of Transport and responsible for Canada Post. "Her stories have garnered recognition worldwide and this tribute adds to her lifetime of honours."
"Our stamp program recognizes the achievements of Canadians," says Deepak Chopra, President and CEO of Canada Post. "As fans of this prolific author know, Ms. Munro's literary talent, wisdom and humanity, reflected in her stories over several decades, have earned her recognition that few writers in any language or country attain."
Alice Munro's early works found their way into Canadian literary journals and CBC Radio's Anthology. Her first collection, Dance of the Happy Shades, was published in 1968. In the mid-1970s, her short stories began appearing regularly in The New Yorker, bringing her a broader, international audience. She has been awarded three Governor-General's awards in 1968, 1978 and 1986, Giller prizes in 1998 and 2004, and the Man Booker International Prize for lifetime achievement in 2009.
When she was presented with her Nobel Prize in 2013, a representative of the Nobel Committee for Literature said, "Reading one of her texts is like watching a cat walk across a laid dinner table. ... Alice Munro is often able to say more in 30 pages than an ordinary novelist is capable of in 300."
The stamp's release date of July 10 marks Munro's birthday.
About the stamp
The pressure-sensitive stamp – printed by Colour Innovations Inc. on Tullis Russell paper using lithography in five colours – is available in booklets of 10 and measures 26 mm x 32 mm (vertical), with simulated perforations. The Official First Day Cover will be cancelled in Wingham, Ont. To purchase philatelic products, please visit canadapost-postescanada/shop.
For more information:
Media relations
613-734-8888
medias@canadapost.ca