Sir John Franklin's flagship found on Canadian stamps
Issue celebrates 2014 discovery of long-lost HMS Erebus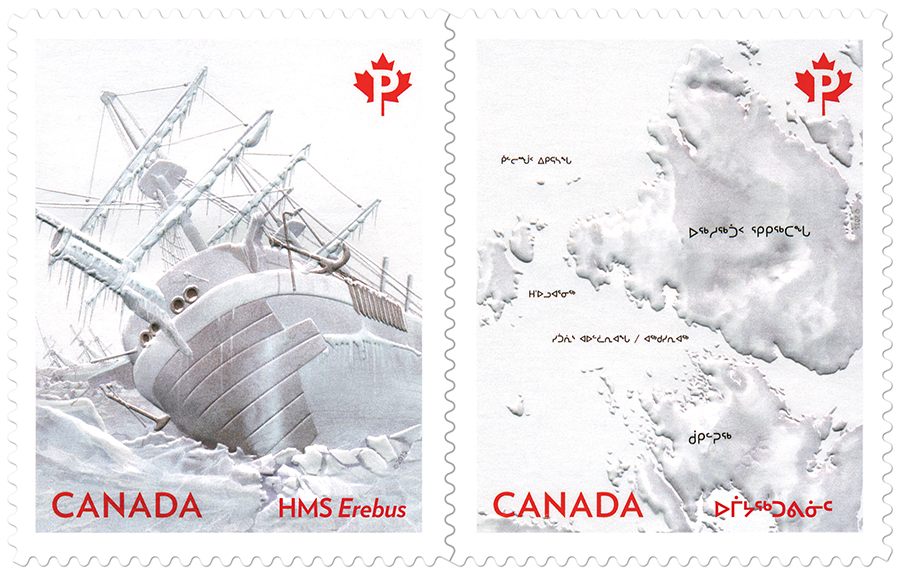 Issue celebrates 2014 discovery of long-lost HMS Erebus
HALIFAX (N.S.) – In a special ceremony held at the Maritime Museum of the Atlantic this morning, Canada Post unveiled three stamps commemorating Sir John Franklin's 1845 search for the Northwest Passage and the discovery of his vanished flagship − HMS Erebus − in September 2014. The stamps, two Permanent™ and one at the international rate, will be issued on August 6.
"The mystery of Franklin's expedition has long captured the imaginations of Canadians. It's a story of leadership, brave exploration, our history, our culture and our iconic North, all wrapped together," says the Honourable Peter MacKay, Minister of Justice. "These stamps reflect Canadians' pride in technology, while embracing the traditional stories and knowledge that helped make the discovery of Erebus possible and highlight a cherished moment in the history of our nation."
"Canadian stamps have a long history of celebrating our great explorers," says Deepak Chopra, Canada Post President and CEO. "These stamps honour Franklin and his bold men but also celebrate the discovery of a shipwreck that had eluded previous and perilous searches: the long-lost Erebus."
A se-tenant issue – or side-by-side pair – the two Permanent stamps were designed by Roy White of Vancouver-based Subplot Design Inc., with illustrations from Halifax-based Mike Little, who worked on the Titanic collection issued in 2012 and other stamps. A white background and high relief embossing were used so that the stamps appear to have been carved from ice. The first stamp shows Erebus with HMS Terror in the background. The second features a map of the Arctic region that Franklin explored and uses Inuktut to mark places – reflecting the Inuit oral history that guided many searches, including the 2014 discovery.
The international-rate stamp, also designed by White, combines Matthew Betts's illustration of HMS Erebus's deck plan with a modern sonar image from the wreck, courtesy of the Canadian Hydrographic Service of Fisheries and Oceans Canada. The accompanying souvenir sheet features an underwater photo provided by Parks Canada of the ship's bell from the Erebus, as discovered by divers. A special phosphorescent ink on the stamp enhances the sonar image, while a metallic ink lends a sheen to the bell.
About the stamps
The two Permanent domestic-rate stamps measure 32 mm by 40 mm and are available in booklets of 10. They were printed by Lowe-Martin Group in lithography in six colours and have been embossed. Designed by Roy White, both stamps feature illustrations from Mike Little. These se-tenant stamps are also available on an Official First Day Cover cancelled in Gjoa Haven, NU and a gummed pane of 16 stamps, which is also available framed, with a unique two-tone metallic ink cancel.
A $2.50 international-rate stamp, measuring 25 mm by 50 mm, is available in booklets of six. The stamp, designed by White and illustrated by Matthew Betts, was printed by Lowe-Martin Group in lithography in six colours with the addition of a phosphorescent ink to enhance the look the sonar image. A souvenir sheet measuring 103 mm by 65 mm, an Official First Day Cover, cancelled in Gjoa Haven, NU, and a 12-souvenir sheet uncut press sheet measuring 650 mm by 483 mm complete this stamp issue.
For more information:
Media Relations
613-734-8888
medias@canadapost.ca