New stamp honours historic reign of Her Majesty Queen Elizabeth II, Queen of Canada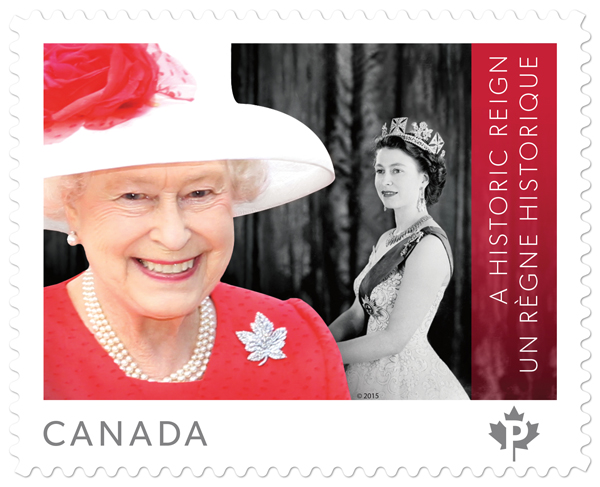 OTTAWA – Canada Post today issued a stamp to honour a Royal milestone. As of 12:30 p.m. Eastern Time, Her Majesty Queen Elizabeth II will be the longest reigning Sovereign in Canada's modern era (more than 63 years), surpassing the reign of her great-great grandmother Queen Victoria (1837-1901).
"Our stamps not only depict past history, often they celebrate history in the making. This is just such an event – and we are proud to have the opportunity to honour Her Majesty as well as her remarkable record of service to Canada and all Canadians," says Deepak Chopra, President and CEO, Canada Post.
From a timeless portrait of Her Majesty's Coronation in 1953 to a photo taken during the 2010 Royal Tour of Canada, the new stamp captures six decades of Queen Elizabeth II. During her reign, Her Majesty has graced more than 60 stamps.
Her Majesty ascended the throne on February 6, 1952, following the sudden death of her father, King George VI. Her coronation took place on June 2, 1953. For most Canadians, she is the only Sovereign to have reigned during their lifetime.
The stamp was designed by Entro's Doreen Colonello and Gerald Querubin. Photographed at the 2010 Canada Day celebration on Parliament Hill, Her Majesty is dressed in red and white – Canada's official colours, as designated by her grandfather, King George V in 1921. She also proudly wears the famous diamond maple leaf broach presented to her mother, Queen Elizabeth (later the Queen Mother) as part of the famous 1939 Royal Tour of Canada.
Other Royal Family Members have also graced Canadian postage. Most recently, stamps marking the engagement and wedding of The Duke and Duchess of Cambridge were extremely popular with all Canadians in 2011, and in 2013, a baby blue stamp heralded the arrival of HRH Prince George Alexander Louis.
About the stamp
The pressure sensitive stamp available in booklets of 10 measures 40 mm X 32 mm (horizontal). It is printed in four-colour lithography plus a metallic silver ink by Lowe-Martin on Tullis Russell paper. The official first day cover will be cancelled in Ottawa, Ont. To download the image of the stamp, please click here. To purchase philatelic products, please visit canadapost.ca/shop.
For more information:
Media Relations
613-734-8888
medias@canadapost.ca