Ghostly tales from across the country in second Haunted Canada stamp issue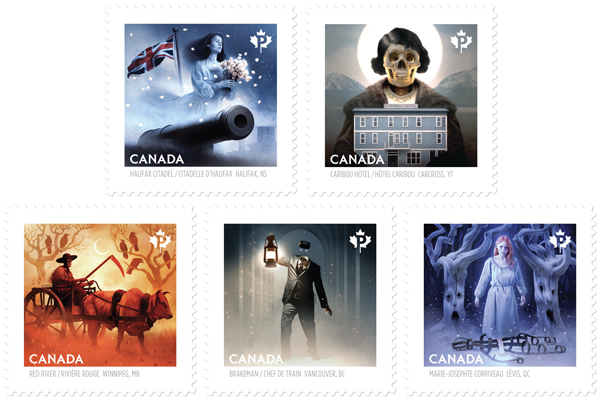 OTTAWA (Ont.) – Today, Canada Post unveiled a second set of stamps featuring popular Canadian ghost stories. The stamps are part of a multi-year series that shares some of the spookiest tales from across the country.
This year's set highlights stories about Vancouver's Gastown – believed to have the most haunted history of any other neighbourhood in Canada; the rumbling ghostly ox cart that panicked the soldiers of the Red River Valley's Lower Fort Garry, in Manitoba; Marie-Josephte Corriveau, whose soul is said to wander the dark roads and forests near Lévis, Quebec; the Caribou Hotel in Carcross, Yukon, rumoured to be haunted by its past innkeeper; and the Grey Lady who wanders the Halifax Citadel National Historic Site searching for her lost love.
"There is nothing more fun, yet unsettling, as ghost stories, and we have a history filled with these memorable tales. Our hope is that Canadians from coast to coast can continue to discover and pass on these stories, which are sure to give a few spine-tingling chills," says Jim Phillips, Director of Stamp Services, Canada Post. "Be prepared for a little scare with these legendary local stories and let your creativity take over," says Joel Sutherland, author of the children's series of Haunted Canada books and adviser to the stamp series. "The series makes for huddling close to the campfire – or a scary sleepover."
Gastown, Vancouver, B.C. – haunted history: Legend has it the Waterfront Station and several bars and restaurants in the neighbourhood are all haunted – making it home to more dearly departed but persistently present spirits than any neighbourhood in Canada.
Red River Valley, Man. – the ox cart: In 1903, soldiers at the Red River Valley's Fort Garry claimed to have seen phantoms driving a cart pulled by a team of oxen pass through their post at night.
Lévis, Que. – Marie-Josephte Corriveau: In 1763, she was executed on charges of murder. Her soul was said to walk the road at night, approaching travelers and grabbing anyone passing by with her claw-like hands as she opened her blood-red eyes.
Carcross, Yukon – Caribou Hotel: Built in the town of Bennett in 1898 at the start of the Klondike Gold Rush, the hotel is rumoured to be haunted by late hotel co-owner Bessie Gideon's ghost. She was supposedly buried in Carcross but a cemetery survey did not locate her grave.
Halifax, N.S. – the Grey Lady: Legend has it that the spirit of the "Grey Lady" wanders the Halifax Citadel National Historic Site, mourning her lost love, strolling the second floor at night, smelling of roses and wearing a 19th-century dress.
About the stamps
The five Permanent domestic-rate stamps measure 32 mm by 32 mm and are available in booklets of 10. They were designed by Lionel Gadoury and printed by Lowe-Martin Group in six-colour lithography with a holographic foil. A souvenir sheet of the five stamps measuring 127 mm by 73 mm, an Official First Day Cover, cancelled in Lévis, Que., an uncut press sheet measuring 483 mm by 616 mm and a Haunted Canada Gift set complete this stamp issue.
For more information:
Media Relations
613-734-8888
medias@canadapost.ca