Christmas stamps feature historic nativity-themed painting and a trio of amusing animal portraits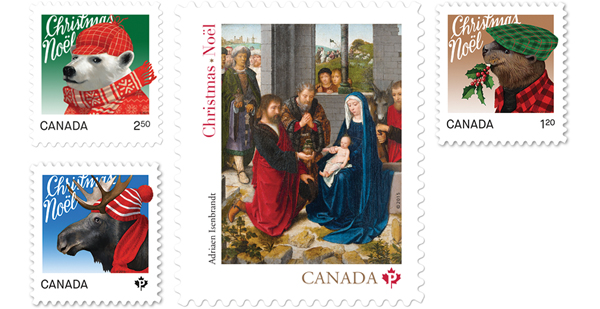 OTTAWA (Ont.) – Canada Post combines whimsical holiday Canadiana with a traditional sacred Christmas image in this year's holiday stamps offering. These beautifully designed stamps will add a special touch of holiday joy to cards and letters sent across the country and beyond.
Charming close-ups of a moose, a beaver and a polar bear are each decked out in retro festive attire on these bold and amusing Permanent™ domestic, U.S.- and International-rate stamps. Elements of clothing flowing beyond the edges of the stamp frame emphasize the stylish humour of these Canadiana cameos.
The fourth stamp, a Permanent™ domestic stamp, features an image from a nativity-themed painting by Adraen Isenbrandt entitled The Adoration of the Magi. The painting, from the early 16th century, depicts the moment when Mary, Joseph and the baby Jesus behold the arrival of the Magi. The Wise Men can be seen in the background. The painting was photographed for the stamp by Denis Farley, and the image was made available courtesy of the Montreal Museum of Fine Arts. The painting was part of a generous donation made to the museum by Michal and Renata Hornstein.
"The world's first Christmas stamp was issued in Canada in 1898, and at Canada Post we value that tradition," says Deepak Chopra, President and CEO of Canada Post. "The holiday stamps are the final issue in this year's stamp program, and they are ever-popular."
About the Christmas stamps
Christmas – Animals: Designed by Paprika and illustrated by well-known painter, illustrator and artist Gérard DuBois, each of the 3 stamps measures 22 mm by 24 mm. The stamps are printed by Lowe-Martin in 5 colour lithography. The Permanent™ domestic stamps are available in booklets of 12 and the U.S. rate and International rate stamps are each available in booklets of 6. Souvenir sheets of all 3 stamps are available. The Official First Day Cover cancellation site is Christmas Island, N.S.
Christmas – Madonna and Child: Designed by Louise Méthé, this Permanent™ domestic stamp measures 26.25 mm by 32.25 mm. The stamp was printed by Canadian Bank Note in 6 colour lithography. It is available in booklets of 12. The Official First Day Cover cancellation site is Montréal, Que..
To purchase these stamps and other philatelic products, please visit canadapost.ca/shop
For more information:
Media relations
613-734-8888
medias@canadapost.ca