Flower series blooms again with set of hydrangea stamps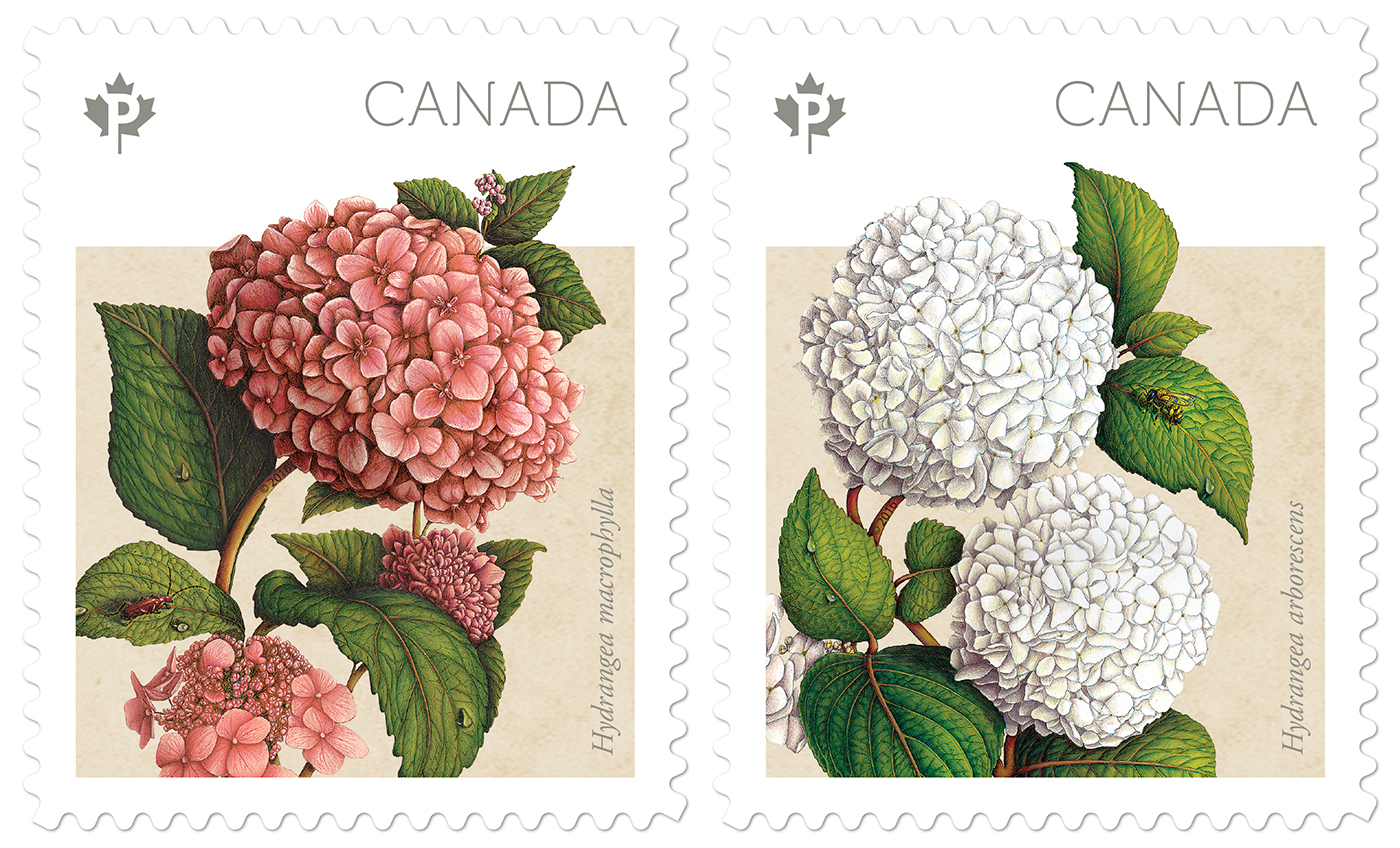 Endless Summer and Annabelle latest in stamp series that has featured a garden of philatelic delights
OTTAWA – With spring just around the corner, Canada Post continues its perennially popular flower series with two new stamps featuring the billowy and showy hydrangea cultivars beloved by Canadian gardeners. A celebration of beauty to come, these beautiful blossoms continue a long tradition of flower stamps often sought after by gardeners, plant enthusiasts and brides.
Endless Summer, a cultivar of bigleaf hydrangea (Hydrangea macrophylla), is shown on the stamp with pink blossoms, while Annabelle, a cultivar of smooth hydrangea (Hydrangea arborescens), sports large, snow-white flower heads.
With approximately 23 species and hundreds of named cultivars – and new ones being introduced – the genus Hydrangea boasts widespread appeal. The name merges the Greek word hydro, meaning water, and angeion, meaning vessel or jug, to evoke the spherical shape of the open flower head. Mostly native to southern and eastern Asia – with other species calling North and South America home – many cultivars draw the eyes of Canadian gardeners. Part of the growing interest in hydrangeas lies in the plant's relatively few needs to thrive: it requires adequate moisture and grows best with some shade.
The stamps illustrate yet another attractive quality of hydrangeas. While white is a common colour, some species develop flowers of different colours, depending on the pH of the soil. Acidic soil creates blue flowers, neutral soil creates cream-coloured blossoms, and alkaline soil produces purple or pink, as exemplified by the stamp image of Endless Summer.
Inspired by traditional botanical drawings, the stamps feature high-contrast tones, sumptuous colours, and realistic details. The coil of 50, ideal for mailing large volumes, alternates between the two flowers, while the Official First Day Cover offers a unique perspective on the blossoms with a pattern that is reminiscent of traditional 1940s wallpaper.
About the Stamps
The stamps measure 26 mm x 32 mm and are available together in booklets of 10 stamps and coils of 50 stamps. They were printed by Canadian Bank Note Company and use lithography in six colours. The souvenir sheet of both stamps measures 120 mm x 84 mm. The Official First Day Cover bears the cancellation site of Sunny Corner, NB. Designed by Benny Corrigan, with art directed by Karen Satok and David Sacha of Toronto's Sputnik Design Partners Inc., the stamps were illustrated by Montréal artist Marie-Élaine Cusson. To purchase philatelic products or for more information, please visit canadapost.ca/shop
For more information:
Media Relations
613-734-8888
medias@canadapost.ca