Celebration of Canada's finest photographers continues in latest Canada Post stamp series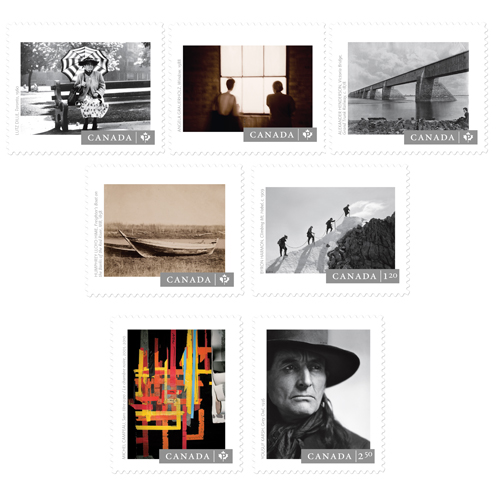 OTTAWA – Canada Post continues its celebration of Canada's best photographers of the past 150 years with the release today of the fourth issue of stamps in a five-year series. This stamp issue includes the work of 7 important Canadian photographers past and present whose imagery has become integral to Canada's rich photographic mosaic. Leading curators and gallery owners across the country selected the images in the series.
Michel Campeau (Sans titre 0310 in the series La chambre noire) explores the obsolescence of the darkroom by focusing on items and objects found in the darkroom environment. This work was the subject of a National Gallery Exhibition in 2013. Campeau was the winner of the Duke and Duchess of York Prize in Photography for 2010, and a founding member of the Groupe d'action photographique. This collective of Montréal photographers documented the city's working-class districts.
Lutz Dille (Toronto, 1960) immigrated to Canada in 1951, arriving in Hamilton at age 29 with a few items of clothing, $30 in cash and his treasured Leica camera. His gritty but compassionate photographs from the post-war era capture poignant and everyday moments on city streets, including Toronto. He shot largely in black and white and is considered one of the country's leading documentary photographers.
Angela Grauerholz (Window, 1988) is known for her work on photographic archives, as well as her dense images, addressing notions of memory, space and place. In 2006, the Montréal photographer was awarded Québec's Prix Paul-Émile-Borduas, followed by the Canada Council's Governor General Award in Visual and Media Arts in 2014, and in 2015 she was the winner the Scotiabank Photography Award.
Byron Harmon (Climbing Mt. Habel, c. 1909) was a charter member of the Alpine Club of Canada and its first official photographer. He captured the grandeur of the Canadian Rockies and the courage of those who explored them in thousands of photographs housed at the Whyte Museum of the Canadian Rockies in Banff, Alberta.
Alexander Henderson (Victoria Bridge, Grand Trunk Railway, c. 1878) earned acclaim both for his romantic, pastoral depictions of the Canadian landscape, and photographs of urban life and outdoor activities. He published his first major collection of landscape photographs in 1865, later taking on a series of photographic commissions for Canadian railways. The stamp features a photograph of the Victoria Bridge, Grand Trunk Railway, from c.1878. This bridge was a significant landmark linking Montreal to the South Shore. Spanning 3 kilometers, it was hailed at the time as the 8th Wonder of the World.
Humphrey Lloyd Hime (Freighter's Boat on the Banks of the Red River, MB, 1858) served as a photographer and surveyor on the Canadian government's 1858 Assiniboine and Saskatchewan Exploring Expedition. He captured striking images of the Red River settlement buildings, Hudson's Bay Company trading posts and indigenous encampments. As well as being a photographer, Hime was a businessman who would later become the president of the Toronto Stock Exchange.
Yousuf Karsh (Grey Owl [Archibald Belaney, 1888-1938], 1936). One of the masters of 20th century photography, Karsh saw his subjects in terms of light, shadow and form. His body of work includes portraits of government leaders, artists, musicians, authors and scientists. The photograph of writer and conservationist Archibald Belaney, a British citizen who convinced the world he was 'Grey Owl,' was made five years before his portrait of British Prime Minister Winston Churchill made Karsh an international success.
About the stamps
The stamps measure 36 mm x 30 mm (horizontal) and 30 mm x 36 mm (vertical) and are available in booklets of 10 domestic stamps and six U.S. and International denominations. Two souvenir sheets (one of one horizontal stamp and two vertical stamps; one of four horizontal stamps) measure 150 mm x 75 mm. They were printed by Canadian Bank Note and designed by Stéphane Huot. The Official First Day Cover cancellation site is Montréal. To download images of the stamps or to purchase philatelic products, please visit canadapost.ca/shop.
For more information:
Media Relations
613-734-8888
medias@canadapost.ca