Star TrekTM 50th anniversary collection ready to warp into the hands of fans and collectors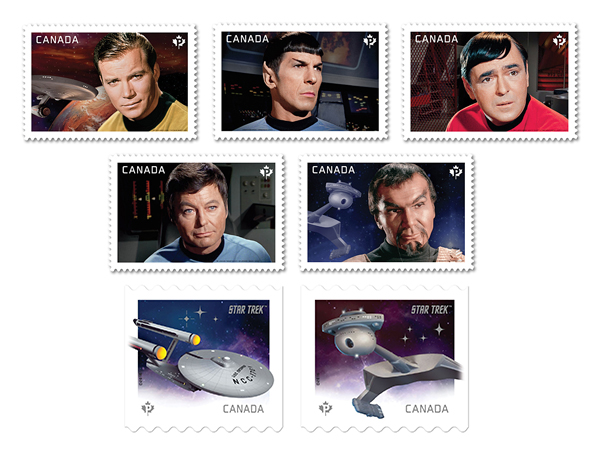 Stamp issue highlights Canadian contributions to classic sci-fi TV show
OTTAWA, CANADA, PLANET EARTH – Stamp collectors and fans of Star Trek will long for a working transporter on May 5, 2016. That way they could beam themselves to the nearest post office and be among the first to take home their favourites from the multi-stamp and collectible issue that pays homage to the original television series.
Under license by CBS Consumer Products, the collections includes five stamps depicting cast members from Star Trek: The Original Series. The U.S.S. Enterprise and a Klingon D7-class battle cruiser blast their way onto the coil stamps, while two special-effect lenticular stamps allow for continuous reruns of classic scenes. Along with a prestige booklet, official first day covers, souvenir sheets, uncut press sheets, panes, and booklets, fans will discover a galaxy of memorabilia, including postcards and stamp dispensers.
Four limited-edition items add to the fleet of collectibles: a framed print signed by William Shatner, a framed stamp pane cancelled with a gold-ink postmark of the Enterprise's trusty shuttlecraft, a lenticular enlargement, and a lenticular uncut press sheet which is a first for any postal administration.
Three of the five characters – Captain James T. Kirk, Montgomery "Scotty" Scott, and Klingon Commander Kor – were played by homegrown actors William Shatner, James Doohan and John Colicos, who hailed from Montréal, Vancouver and Toronto, respectively. Spock too, can claim a connection to Canada via Vulcan, Alberta, which shares its name with his home planet. Dr. Leonard "Bones" McCoy rounds out the issue.
About the stamps
The Star Trek stamps featuring five characters from Star Trek: The Original Series measure 45 mm x 30 mm and are available in a booklet of 10 Permanent™ domestic rate stamps. They are also available in mixed rates in a prestige booklet and a souvenir sheet of five stamps. Two additional Permanent™ domestic rate stamps featuring the U.S.S. Enterprise and the Klingon battle cruiser measure 24 mm x 20 mm and are available in a souvenir sheet of two stamps, a coil of 50 stamps, a prestige booklet, and strips of four and 10 stamps. The high-value ($5) lenticular stamps measure 46 mm x 34 mm and are available in a souvenir sheet of two stamps. The stamps were printed by Lowe-Martin and the lenticular by Outer Aspect based on designs by Kosta Tsetsekas of Signal Design Group. Official First Day Covers featuring the various stamps were cancelled in Montréal, Vancouver, Toronto, and Vulcan, Alta. To download images of the stamps or to purchase philatelic products, please visit canadapost.ca/shop.
For more information:
Media Relations
613-734-8888
medias@canadapost.ca