Canada Post's Christmas stamps capture the season in playful and traditional images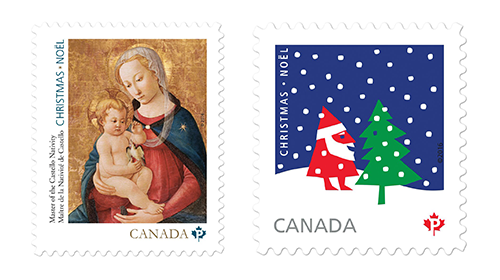 OTTAWA – Canada Post's Christmas stamps ring in the holiday season with three mirthful images from one of Canada's most prolific stamp designers and a classic Renaissance rendering of Mary and the baby Jesus. Holiday well-wishers can add special cheer to their cards and letters with a secular or a sacred image.
Filled with billowy snowflakes in a navy blue sky, Rolf Harder's images appear to be taken from an enchanted forest, occupied only by Santa Claus, a single Christmas tree and a dove carrying an olive branch. The renowned designer, who died in 2013, produced more than 60 works for Canada Post. His work has been added to the permanent collections of the Musée national des Beaux-arts du Québec and the Museum of Modern Art in New York.
The fourth stamp depicts the Virgin and Child, which was painted around 1460 by a highly esteemed painter from Florence, Italy, known only as the Master of the Castello Nativity. This rare painting uses gold and tempera, a pigment common until the advent of oil paint, whose many layers create intense colours. Virgin and Child is part of a generous donation of paintings made by Michal and Renata Hornstein to the Montreal Museum of Fine Arts.
About the stamps (click here for stamps images)
Master of the Castello Nativity: Designed by Louise Méthé, this PermanentTM domestic stamp measures 26.25 mm by 32.25 mm and was printed by Canadian Bank Note using six colours, including a special gold ink. Virgin and Child was photographed by Brian Merrett and the image was made available courtesy of the Montreal Museum of Fine Arts. The stamp is available in booklets of 12 with a single-stamp Official First Day Cover cancelled in Montréal.
Rolf Harder Christmas stamps: Designed by Hélène L'Heureux, the Christmas stamps were developed from Rolf Harder's original illustrations under the art direction of his daughter, Vivi Harder. They are available in domestic booklets of 12 Permanent stamps, and single-sided booklets of six U.S. and international-rate stamps. They are also available in souvenir sheets of three Permanent, U.S. and international stamps. Printed by Canadian Bank Note using six colours, they measure 22 mm by 24 mm.
For more information:
Media Relations
613-734-8888
media@canadapost.ca