Stamps showcase five UNESCO World Heritage Sites
Earth's earliest complex large life forms, a Viking settlement and Old Québec's well-preserved historic district are all celebrated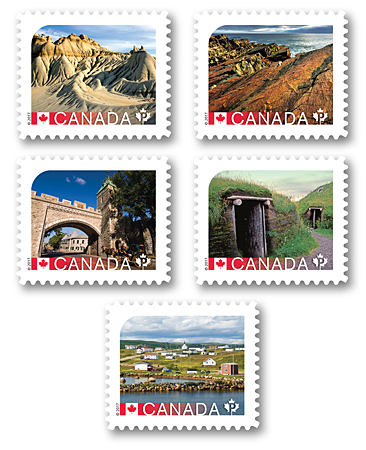 OTTAWA – Canadians are invited to discover the country's early historic settlements and to envision the origins of complex organisms on this planet by new stamps depicting UNESCO World Heritage Sites.
"These sites are treasures for Canada and the world – and we hope that these stamps instill pride and arouse a sense of wonder in every Canadian," says Canada Post President and CEO Deepak Chopra.
Three of the stamps feature sites that are new to the multi-year series, which has celebrated all 18 sites:
Mistaken Point (N.L.), at the southeastern tip of Newfoundland, gives us some sense of what life looked like when organisms began to get larger than microbes and complex. Embedded along this gorgeous coastline are groups of the oldest known fossils of ancient soft-bodied life forms, dating back 560 to 580 million years. These strange multi-celled organisms ranged in size from as small as a fingernail to as long as a metre and had no legs or eyes. They are believed to be the planet's first large life forms.
The Historic District of Old Québec (Que.), founded in 1608 by Samuel de Champlain, is still bustling with activity, yet has maintained the integrity of essential historical buildings and spaces over more than four centuries. Fortified with walls, gates and bastions, this is the only colonial city north of Mexico to have preserved its ramparts.
L'Anse aux Meadows National Historic Site (N.L.), at the tip of Newfoundland's Great Northern Peninsula, contains timber-framed turf dwellings built by a Norse expedition more than 1,000 years ago. The settlement is the earliest known European presence in North America.
The remaining two stamps bear images of locations that appeared on U.S.-rate stamps issued in 2015:
Dinosaur Provincial Park (Alta.), was declared a World Heritage site for its exceptional fossil specimens of Cretaceous dinosaurs, as well as undisturbed badlands and riverside habitat.
Red Bay Basque Whaling Station (N.L.), on the south coast of Labrador, is the most complete and extensive example of a 16th-century Basque whaling station in North America.
World Heritage Sites are chosen by the United Nations Educational, Scientific and Cultural Organization (UNESCO), which "seeks to encourage the identification, protection and preservation of cultural and natural heritage around the world considered to be of outstanding value to humanity."
Designed by Lara Minja of Lime Design, the 24 mm x 20 mm self-adhesive stamps are sold in booklets of 10 and 30. A gummed souvenir sheet of the five stamps, an Official First Day Cover cancelled in Trepassey, NL, and postage-paid postcards of the three new stamp images are also available. Postage-paid postcards for Dinosaur Provincial Park and Red Bay Basque Whaling Station are also available.
For more information:
Media Relations
613-734-8888
media@canadapost.ca