Canada Post hosts the Head of India Post and delegation for first-ever visit
Discussions focused on growing e-commerce and a historic stamp issue for Canada's 150th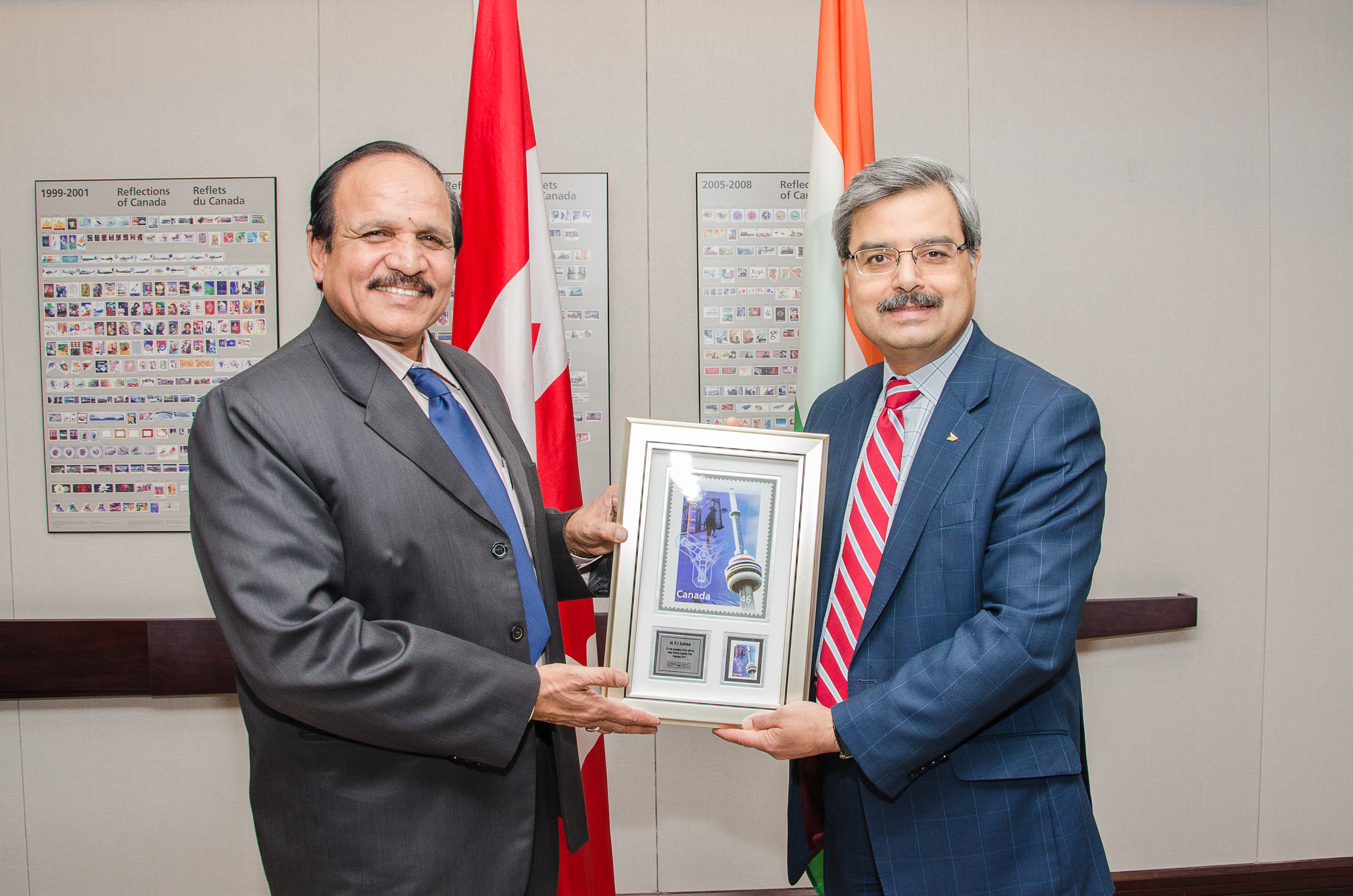 Mr. B.V. Sudhakar, Secretary, Department of Posts of the Government of India (left), is greeted by Deepak Chopra, President and CEO of Canada Post for historic bilateral meetings.
OTTAWA – Representatives from India Post wrapped up a productive three-day visit to Canada and held bilateral meetings with senior officials from Canada Post. Meetings were conducted in Ottawa and Toronto to discuss further enhancing the long-standing working relationship between the two globally important national postal services. Discussions focused on ideas to grow e-commerce between the two countries to benefit Canadian consumers and businesses as well as a historic joint stamp issue.
Attending the meeting were Mr. B.V. Sudhakar – Secretary, Department of Posts, representing Department of Posts of the Government of India, Deepak Chopra, President and CEO of Canada Post, and Mr. Dinesh Bhatia, Consul General of India in Toronto.
On e-commerce, the two organizations signed a bilateral agreement to work toward extending Xpresspost International service using the Express Mail Service (EMS) network. Once implemented, Canadians sending items to India will experience several improvements over the current International Parcel – Air service:
Faster service
On-time delivery guarantee
End-to-end tracking and delivery confirmation
Signature
With Xpresspost International, Canadians have the opportunity to send their documents and parcels using the world's fastest postal service, via our partner posts' priority networks.
In celebration of Canada's 150th Anniversary, Canada Post and India Post also agreed to produce a first-ever joint stamp issue to mark Diwali, the Festival of Lights. The joint issue will be available to the public in September of this year.
Canada Post President and CEO Deepak Chopra says, "This stamp – to mark the festival of Diwali – is Canada Post's first joint issue with India. Not only will it represent our country's proud diversity, it will celebrate the close bond between both countries."
Secretary, Department of Posts, India Mr. B.V. Sudhakar says, "I am proud to have conducted the first ever visit to Canada Post. Issuing a joint stamp celebrating Diwali is a meaningful way to recognize the importance of this relationship to both countries."
Consul General of India, Mr. Dinesh Bhatia says, "Both these initiatives are major milestones in Canada-India relations and I applaud Mr. Chopra and Mr. Sudhakar for their initiative and leadership in building new bridges for trade and goodwill between our two countries."
The joint stamp issue will feature two stamps marking Diwali, the festival of lights, with one stamp design from each country. The stamps will be released in each country on the same day in the fall of 2017.
For more information:
Media Relations
613-734-8888
media@canadapost.ca