World-renowned architect Moshe Safdie and Canada Post unveil stamp depicting Habitat 67 complex to celebrate Expo 67
Stamp is first in a set of 10 that will capture unforgettable moments of the last 50 years as country celebrates Canada 150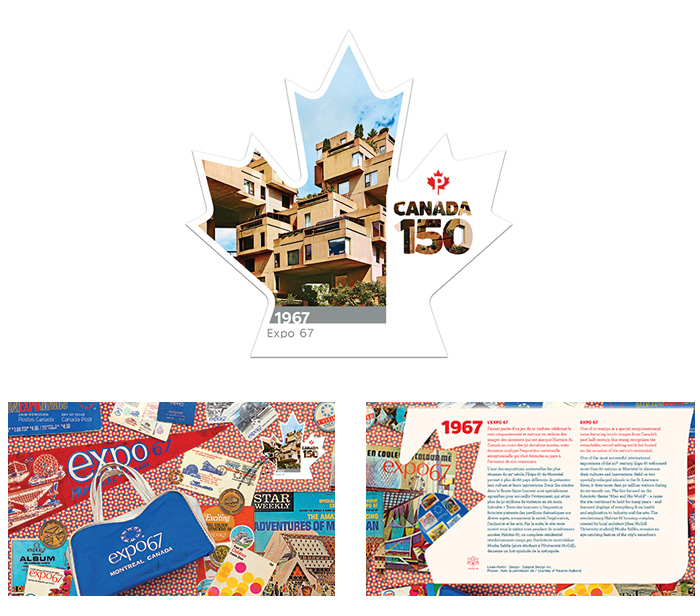 MONTRÉAL – Canada Post and Moshe Safdie, whose revolutionary Habitat 67 modular housing complex earned global accolades as an icon of urban living, today unveiled a stamp with an image of his futuristic structure representing the event for which it was built: Expo 67.
The Expo 67 stamp is the first of 10 to be issued to mark Canada's 150th year since Confederation. Each one celebrates a significant and unforgettable moment in the life of this country since its centennial in 1967. The 10 moments and achievements, which have become pillars of Canada's collective memory, were selected by Canada Post's stamp advisory committee, which includes historians, collectors and artists. A video featuring Safdie and a magazine article about Expo 67 are available at canadapost.ca/Canada150.
Safdie unveiled the stamp in the very building that forever placed his signature on his adopted city. With Habitat 67, Safdie – a bold, brash and brilliant young architect on the verge of launching a significant global career – captured an era of optimism, energy and progress. This project also launched his incredible career that has had him design prestigious buildings around the world, including the National Gallery of Canada, the Quebec Museum of Civilization, Marina Bay Sands in Singapore and the United States Institute of Peace in Washington, D.C.
Habitat 67 was perfect for Expo 67, the international festival that transformed its host city of Montréal and the country itself. Canada introduced itself to the world with Expo 67 as a country of seemingly boundless talent and potential. The event brought Canadians from across the country and visitors from around the world together for six months between April and October 1967. When Canada's population was only 20 million, more than 50 million people attended. That ratio set a per-capita attendance record for a World's Fair, which still stands. It is widely considered the most successful World's Fair of the 20th century.
Those six months became a landmark moment for Canada – socially, culturally and politically. Several generations of Canadians have since pointed to it as the signature event of our centennial year. It featured pavilions from 62 countries, as well as Canada's provinces and territories. It was an opportunity for Canadians to get better acquainted with Quebec culture. It attracted many notable figures of the time, including Queen Elizabeth II, U.S. President Lyndon B. Johnson, Princess Grace of Monaco, Jacqueline Kennedy and Robert F. Kennedy, and Bing Crosby. The Ed Sullivan Show was broadcast live from Expo 67 twice that May. Many Canadians associate Bobby Gimby's popular centennial tune Ca-na-da with Expo 67.
With the theme "Man and His World," the event also showcased Canadian innovation – be it technology, urban planning, industry or architecture. The vision and legacy of Expo 67 still echo today through Montréal's infrastructure, architecture, public art and the two islands in the St. Lawrence River.
The next stamp in the Canada 150 set will be revealed in Ottawa on Wednesday, May 3. The others will be unveiled individually at cities across the country, the last of them on June 1.
About the stamp
Each of the 10 maple-leaf shaped die-cut PermanentTM domestic-rate stamps measures 40 mm x 40 mm and is printed in 6 colours plus tagging. The self-adhesive stamps are available in a booklet of 10 (4 million stamps). A gummed pane of 10 stamps, with circle perforations 4.5 cm in diameter, is also available (80,000 panes). Official First Day Covers, one for each stamp design and each cancelled in OTTAWA ON, are available in a pack of 10 (10,000 packs). The stamp issue was designed by Roy White and Liz Wurzinger of Subplot Design Inc. in Vancouver, B.C., and printed by the Lowe-Martin Group.
About Moshe Safdie
Moshe Safdie is an architect, urban planner, educator, theorist, and author. Beginning with his architectural thesis at McGill University in 1964 and the pioneering housing complex Habitat 67 in Montréal, Safdie's design philosophy has been consistently responsive to local historic, cultural, and environmental contexts. With his global firm, Safdie Architects, notable projects include the National Gallery of Canada; Marina Bay Sands in Singapore; Khalsa Heritage Centre in Punjab, India; and the United States Institute of Peace headquarters in Washington, D.C. Safdie has been recognized widely for his enduring influence on the built environment. He is the recipient of the Companion of the Order of Canada, the Gold Medal from both the Royal Architectural Institute of Canada and the American Institute of Architects, la Médaille du Mérite from the Order of Architects of Québec, and the Cooper Hewitt National Design Awards 2016 Lifetime Achievement Award. He continues to inspire the theory and application of ideas about housing, mixed use, and high density in cities around the world.
For more information:
Media Relations
613-734-8888
media@canadapost.ca