Work of renowned photographers represents 150 years of Canadian photography, concluding five-year stamp series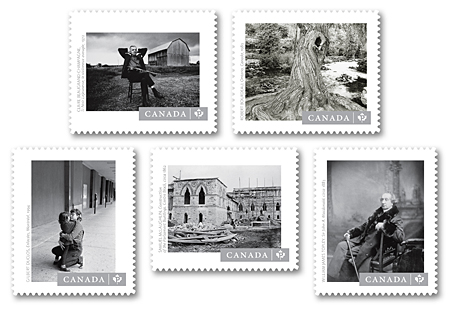 OTTAWA – Canada Post has chosen five renowned photographers and their work as an overview of the art form over the past 150 years for its fifth and final stamp issue in the Canadian Photography series.
The five PermanentTM domestic stamps feature some of the photographers' most iconic photographs, which were carefully selected with the help of major curators and art professionals across the country:
Claire Beaugrand-Champagne (Ti-Noir Lajeunesse, The Blind Violinist, Disraeli, Quebec, 1972) was Quebec's first female press photographer, well known for her documentary images of people who have served as powerful reflections of society.
Robert Bourdeau (Ontario, Canada, 1989) built a reputation for producing images taken with large-format cameras. His photographs are found in major collections in Canada and the United States. His work focuses on the revealing details of subjects ranging from traditional landscapes to architecture and still life.
Gilbert Duclos (Enlacées, Montréal, 1994) has focused his lens on scenes that reflect his passion for street humanism. Throughout his career as a professional photographer, his photographic series have depicted many of the Western world's cities. His work has been featured in numerous publications and exhibitions. His portrait of jazz pianist Oscar Peterson was on a stamp Canada Post issued in 2005.
Samuel McLaughlin (Construction of the Parliament Buildings, Centre Block, circa 1862) became the Province of Canada's first official photographer in 1861. He published Canada's first photographic collection: The Photographic Portfolio (1858-60), an impressive documentation of several Canadian public work projects, including the construction of the Parliament buildings.
William James Topley (Sir John A. Macdonald, circa 1883) has left us with a visual record of the first 50 years after Confederation, which include captivating portraits of Canada's early political leaders. He learned the art of photography early from his mother, joined the William Notman Studio in Montréal for three years and later took over a branch office in Ottawa.
About the stamps
Available in a booklet of 10, the domestic-rate stamps measure 36 mm by 30 mm and feature lithography in a four-colour process and two special inks. Two souvenir sheets (one with three domestic-rate stamps, the other with two) measure 150 mm by 75 mm and are printed in a four-colour process and three special inks. They were printed by Canadian Bank Note and designed by Stéphane Huot. The Official First Day Cover cancellation site is Montréal. As with all issues in 2017, the stamps contain a special Canada 150 feature. In this issue, the Canada 150 logo repeats across the bottom and top of the stamps in taggant, which is visible only in black light. To download images of the stamps or to purchase philatelic products, visit canadapost.ca/shop.
For more information:
Media Relations
613-734-8888
media@canadapost.ca