Emblematic birds featured in second issue of Birds of Canada stamp series
Detailed illustrations showcase birds' distinctive traits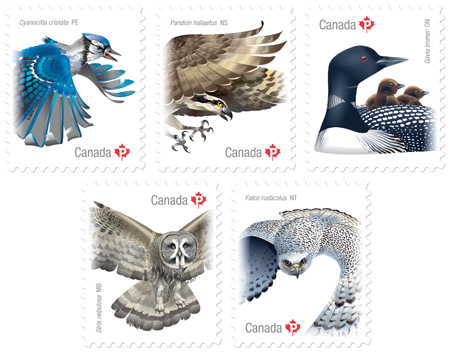 OTTAWA – Canada Post continues its three-year Birds of Canada stamp series with the release of the second issue today. Celebrating the diversity of the country's avian life, the five-stamp issue features provincial and territorial birds from across the country. The images in this latest series are:
Blue jay (Prince Edward Island) – Often found in their natural habitat of forests across southern Canada, from Alberta to the Atlantic, blue jays are also adapted to many environments, including urban and suburban areas. The blue jay, with its distinctive colouring and largely mysterious migration patterns, can be spotted year-round in Prince Edward Island.
Gyrfalcon (Northwest Territories) – The largest falcons in the world, gyrfalcons are fierce predators who typically breed in the Arctic. When hunting, the gyrfalcon approaches its prey at breathtaking speeds, hugging ground contours until it strikes. The gyrfalcon varies in plumage colouring, from pure white, common to those in the high Artic, to dark grey-brown with white streaks.
Common loon (Ontario) – While clumsy and awkward on their feet, common loons can swim immediately after hatching and are adept at diving under water in search of prey. Commonly associated with the solitude and beauty of Canada's wilderness, the striking black-and-white feathered birds can be found in rivers and lakes across Ontario, and feature prominently in Indigenous legends.
Great gray owl (Manitoba) – Great gray owls camouflage themselves in the stillness of Manitoba's mixed-woods and coniferous forests, and usually hunt near dawn or dusk by listening and watching from a perch. The great gray owl is Canada's largest owl, and one of the largest in the world, though dense, fluffy plumage make them appear more substantial than they are.
Osprey (Nova Scotia) – Sometimes mistaken for bald eagles, ospreys are superb at catching fish, which make up 99 percent of their diet. They dramatically plunge into water, plucking fish by locking their talons into them. Located on every continent except Antarctica, one of their primary breeding grounds in Canada is Nova Scotia, where they nest along coastlines and lakes.
About the stamps
The 24-mm-by-20-mm stamps are available in booklets of 10. They were printed by the Canadian Bank Note in lithography in six colours. They were designed by Kosta Tsetsekas, Adrian Horvath and Mike Savage of Vancouver-based Signals and beautifully illustrated by Keith Martin. The souvenir sheet of five stamps measures 114 mm x 92 mm and the Official First Day Cover measures 190 mm x 112 mm. The cancellation site is Yellowknife, NT. As with all stamps issued in 2017, a reference to Canada's sesquicentennial can be found on the stamps. In this case, the Canada 150 logo subtly appears near the birds in a light varnish. David R. Gray of Grayhound Information Services provided his valued expertise to this stamp issue.
For more information:
Media Relations
613-734-8888
media@canadapost.ca