Canada Post Community Foundation for Children unveils fundraising stamps
Proceeds donated to improve the lives of young people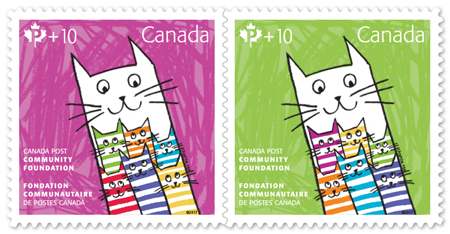 OTTAWA – Canada Post kicks off its annual Community Foundation fundraising campaign today with the launch of two new stamps. From the purchase of every 10-stamp booklet, $1 goes to the Foundation.
This year's release features a whimsical illustration of seven smiling cats. Chosen for their curiosity and independence, these playful creatures are good mascots for strong children. That makes them a perfect match for the Foundation's mission.
"The Foundation exists to improve the lives of Canadian children by funding grassroots programs across the country that support their needs," says Deepak Chopra, President and CEO of Canada Post.
Since it started in 2012, the Foundation has awarded more than $6 million to more than 550 projects. It supports registered charities, school programs and local initiatives focussed on young people. Foundation grants have been used to introduce literacy and counselling programs, build playgrounds, launch help lines and mental health supports, start breakfast programs and more.
The 2017 stamps are available online and in-store at Canada Post outlets starting September 25.
About the stamp
Designed by Andrew Lewis, The "semi-postal" PermanentTM stamps measure 32 mm x 32 mm. They appear in two colour variations of an identical image and are printed by Lowe Martin in seven colours. Booklets of 10 contain five of each colour variation. The two single-stamp Official First Day Covers are cancelled in Ottawa. The booklets measure 74 mm x 230 mm flat or 74 mm x 155 mm folded. The first day covers measure 190 mm x 112 mm.
About the Foundation
The Canada Post Community Foundation aims to ensure that every child in Canada is happy, healthy and part of a community that supports and cares for them. Its mission is to have a positive effect on the lives of children in the communities Canada Post serves.
For more information:
Media Relations
613-734-8888
media@canadapost.ca