Canadian Hockey Legends stamps immortalize the best ever to don a jersey in the NHL®
Final instalment of five-year series commemorated during the League's Centennial, and the 125th anniversary of the Stanley Cup®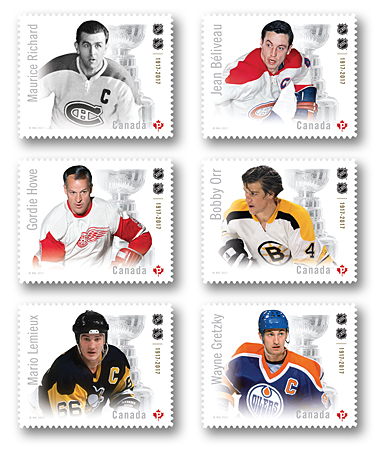 TORONTO – Exactly one week before the NHL® drops the puck on the 2017-18 season, Canada Post lifted the veil today on the final instalment of its five-year NHL stamp collection at the Hockey Hall of Fame.
The 2017 Canadian Hockey Legends issue celebrates the best players ever to don a jersey in the NHL®: Maurice (Rocket) Richard and Jean Béliveau (Montreal Canadiens); Gordie Howe (Detroit Red Wings); Bobby Orr (Boston Bruins); Mario Lemieux (Pittsburgh Penguins); and Wayne Gretzky (Edmonton Oilers).
"The players we immortalized on this year's stamps redefined hockey over careers that spanned more than 60 years. They inspired us – and each other – with feats that boggle the mind. They are the Ultimate Six," says Canada Post President and CEO Deepak Chopra. "We hope that by issuing these stamps during the NHL's Centennial, we have helped make this milestone year for the NHL even more special."
"As kids, Canadians dream about playing in the NHL and doing what they've seen their heroes do on the ice," says the Honourable Carla Qualtrough, Minister of Public Services and Procurement, who is responsible for Canada Post. "But these six legends did things that amazed even their fellow NHL players in game after game and throughout their stellar careers."
"On January 1st, we began our year-long Centennial celebrations. With 100 years of history, traditions, and memorable moments behind us – and a thrilling future ahead – we have a lot to celebrate," said Brian Jennings, NHL Chief Branding Officer. "We're fortunate to partner with great brands like Canada Post, which shares our passion for this beautiful game."
As a group, the all-star lineup scored more than 9,500 points in almost 7,000 regular-season games, won 40 Stanley Cup Championships – 30 as players and another 10 as management – and more than 80 individual awards.
Designed by Avi Dunkelman and Joe Gault for Mix Design Group of Toronto, each stamp features a head-and-shoulders image of the player in uniform, with the Stanley Cup image ghosted in the background.
Hockey-card souvenir sheets show the players holding the Cup; they are only available in packs of six, like hockey cards.
The 2017 NHL Canadian Hockey Legends issue builds on the NHL Team Jersey stamps released in 2013, the Original SixTM Defenceman stamps released in 2014, the NHL Great Canadian Goalie stamps in 2015 and the NHL Great Canadian Forwards issue last year.
BACKGROUND
Maurice (Rocket) Richard played 18 NHL seasons with the Montreal Canadiens. In 978 regular-season games, he scored 544 goals, 422 assists and 966 points. The Rocket had three famous firsts: 50 goals in a season; 50 goals in 50 games (1944-45); and 500 career goals. He won eight Stanley Cup Championships, including five in a row from 1955-56 to 1959-60, and the Hart Trophy as the League's most valuable player in 1946-47. He led the League in goals five times and was inducted into the Hockey Hall of Fame in 1961. The Canadiens retired his No. 9 in 1960.
Jean Béliveau played 18 full NHL seasons and parts of two more with the Montreal Canadiens. In 1,125 regular-season games, he scored 507 goals, 712 assists and 1,219 points. His name is on the Stanley Cup an unprecedented 17 times – 10 as a player and seven as an executive for the Canadiens. He won the Art Ross Trophy as League-leading scorer in 1955-56, the Hart Trophy twice (1955-56 and 1963-64); and the Conn Smythe Trophy as playoff MVP in 1964-65. He was honoured with the NHL Lifetime Achievement Award in 2009 and was inducted into the Hockey Hall of Fame in 1972. His No. 4 was retired by the Canadiens in 1971.
Gordie Howe played more than 30 seasons of professional hockey, including 26 in the NHL with the Detroit Red Wings and Hartford Whalers. In 1,767 regular-season NHL games, he scored 801 goals, 1,049 assists and 1,850 points. At the time of his retirement, Howe was the NHL's all-time leader in games played, goals, assists and points. He won four Stanley Cup Championships, the Art Ross Trophy six times, the Hart Trophy six times, the Lester Patrick Trophy for his contribution to hockey in the United States and was the inaugural recipient of the NHL Lifetime Achievement Award in 2008. He was inducted into the Hockey Hall of Fame in 1972. The Detroit Red Wings retired his No. 9 in 1972.
Bobby Orr played 657 regular-season games with the Boston Bruins and Chicago Blackhawks across 12 NHL seasons from 1966 to 1978. He scored 270 goals, 645 assists and 915 points. In 10 seasons with the Bruins, he had six consecutive 100-point seasons. In 1969-70, he was the first player to win four individual awards in one season: Conn Smythe, Norris, Art Ross, and Hart. He's the only NHL defenceman to have nine hat tricks in his career and, in 1970-71, he set the single-season record for assists (102) and points (139) by a defenceman while recording an NHL-record plus-124 rating. He won two Stanley Cup Championships and was awarded the Conn Smythe Trophy on both occasions. His eight Norris Trophy wins as the League's top defenceman remains a record. Orr was also awarded the Hart Trophy three times, and the Art Ross Trophy twice. He was inducted into Hockey Hall of Fame in 1979. The Bruins retired his No. 4 in 1979.
Mario Lemieux played 17 NHL seasons with the Pittsburgh Penguins from 1984 to 2005. In 915 regular-season games, he scored 690 goals, 1,033 assists and 1,723 points. He won the Calder Trophy as rookie of the year in 1984-85 and had 10 NHL seasons of 100 points or more. He has his name engraved on the Stanley Cup five times – two as a player and three as an owner – was awarded the Conn Smythe Trophy twice, the Art Ross Trophy six times and is a three-time recipient of the Hart Trophy. The Pittsburgh Penguins retired his No. 66 in 1997. He was inducted into the Hockey Hall of Fame in 1997.
Wayne Gretzky played 20 NHL seasons with the Edmonton Oilers, Los Angeles Kings, St. Louis Blues and New York Rangers from 1979 to 1999. In 1,487 regular-season games, he scored 894 goals, 1,963 assists and 2,857 points – all NHL records. Even if he had never scored a goal, his career assists total would rank him above all other players in points. He retired holding more than 60 NHL records, including the fastest player to score 50 goals in a season, accomplished in a remarkable 39 games during the 1981-82 campaign. Gretzky is a four-time Stanley Cup champion, two-time Conn Smythe Trophy winner, captured the Art Ross Trophy 10 times and the Hart Trophy nine times. Gretzky was also recognized on five occasions with the Lady Byng Memorial Trophy for sportsmanship and gentlemanly conduct, and honoured with the Lester Patrick Trophy for his contribution to hockey in the United States. Gretzky's No. 99 was retired League-wide upon retirement and he was inducted into the Hockey Hall of Fame in 1999.
About the Canadian Hockey Legends stamp
Available in a mixed booklet of six, containing all six players, the stamps measure 40 mm x 32 mm with simulated perforations, and are printed by Lowe-Martin on Tullis Russell paper with seven-colour lithography. Oversized-rate hockey-card-size souvenir sheets are available in a pack of six, as well. Each includes a chance to win: one in 40 packs has a signed and authenticated souvenir sheet. Related products: A gummed mini-pane collectors' item featuring all six players. The mini-pane features a silver foiled and embossed Stanley Cup. The Official First Day Covers – one for each player – will be cancelled in the birthplaces of the player: Montréal, Que. (Richard and Lemieux); Trois-Rivières (Béliveau); Floral, Sask. (Howe); Parry Sound, Ont. (Orr); Brantford, Ont. (Gretzky). Limited edition numbered framed prints are available for each player
For more information:
Media relations
613-734-8888
media@canadapost.ca
NHL, the NHL Shield and the word mark and image of the Stanley Cup are registered trademarks and Original Six is a trademark of the National Hockey League. NHL and NHL team marks are the property of the NHL and its teams.
© NHL 2017. All Rights Reserved.