History of Hockey stamps go on sale in Canada, the U.S.
Sixth joint issue celebrates pure love of the game in both countries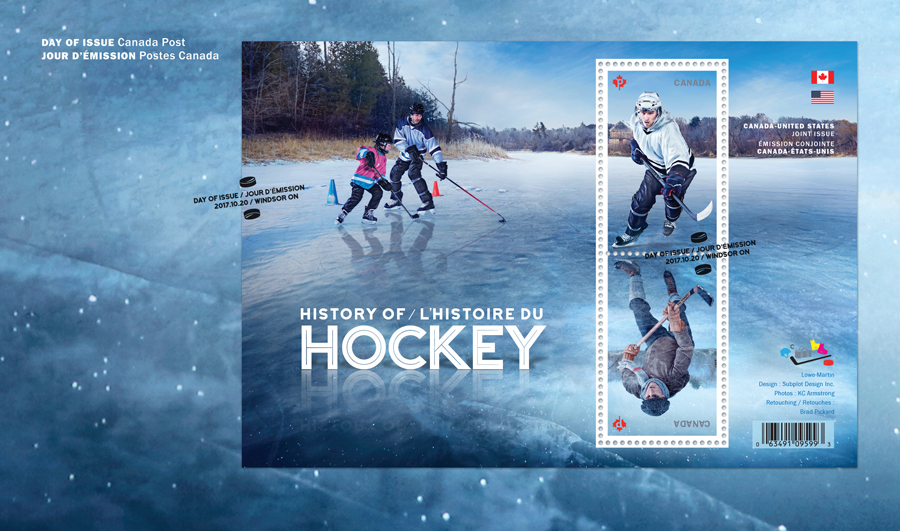 DETROIT – History of Hockey stamps went on sale in Canada and the United States today after being unveiled at the Belfor Training Center at the Little Caesars Arena complex, which is home to the Detroit Red Wings.
"The joint stamp issue is the sixth by Canada Post and the United States Postal Service (USPS). The subjects chosen for the joint issues highlight how much our nations have in common. Hockey is one of those things," said Canada Post President and CEO Deepak Chopra. "These stamps celebrate the shared love of hockey, a game now firmly rooted in the lore of both nations."
Generation after generation, across North America and much of the world, hockey has thrilled boys and girls, young and old. As the decades have glided by, equipment has evolved and styles have changed, but the excitement of playing remains ingrained in us.
Hockey Hall of Famer Red Kelly, who was honoured in the 2014 Original Six™ Defenceman issue of Canada Post's five-year NHL® series, spoke at the unveiling ceremony.
"There is nothing like the game of hockey. It's the greatest game in the world. Having played professional hockey in both the United States and Canada, it is wonderful for me to see the United States Postal Service and Canada Post unite to produce the History of Hockey stamps, depicting hockey at its purest roots," said Mr. Kelly, who won the Stanley Cup® Championship four times with the Detroit Red Wings and another four with the Toronto Maple Leafs. "I am pleased to be back in Detroit and part of this occasion."
"The Howe family applauds Canada Post and the United States Postal service for their tremendous collaborative efforts and vision to create the History of Hockey stamp set," said Dr. Murray Howe, Gordie Howe's youngest son. "The stamps will serve as a beautiful symbol of the bond between our two nations, and as a tribute to the players, teams, officials, concessioners, broadcasters, reporters, sponsors, and fans who all play an integral role in this sport we love so much. We owe much to the game of hockey, and feel blessed to be a part of this momentous occasion."
The Canadian stamps are sold in booklets of 10, the U.S. stamps in panes of 20. In Canada, consumers can purchase a souvenir sheet of two Permanent™ domestic rate stamps and an Official First Day Cover souvenir sheet with two Canadian Permanent™ stamps. There is also a joint Official First Day Cover, with two Canadian stamps and two U.S. Forever stamps.
About the History of Hockey stamps
Available in a self-adhesive booklet of 10 for $8.50, the two domestic rate Permanent™ stamps measure 26 mm x 40 mm with simulated perforations and are printed in four-colour process plus two special inks. Designed by Roy White of Subplot Design Inc. of Vancouver, the issue features photography by KC Armstrong, with retouching by Brad Pickard, and was printed by Lowe-Martin. The issue also includes a gummed souvenir sheet, featuring a gummed tête-bêche pair. This souvenir sheet also appears on an Official First Day Cover cancelled in Windsor, Ontario. The joint Official First Day Covers feature two tête-bêche pairs, one pair at the Canadian domestic Permanent rate and one at the United States' Forever domestic rate. The joint cover also features two cancels, one from Detroit, Michigan, and one from Windsor, Ontario.
For more information:
Media Relations
613-734-8888
media@canadapost.ca