'Tis the season: Annual Christmas stamps now available
Stamp issues celebrate both secular and sacred aspects of the holiday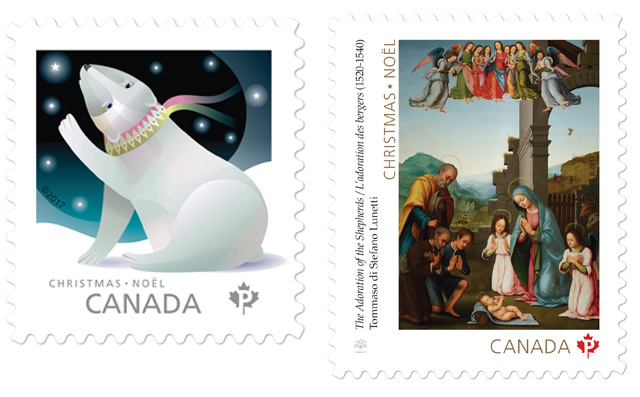 OTTAWA – Since 1964, Canadians have counted on Canada Post to dress up their holiday mail with festive stamps heralding the season. Christmas stamps have become a tradition dear to our hearts – and a joyful sign that the holidays are almost upon us. Once again this year, Canadians can make their mail merrier with their choice of stamps bearing either sacred or secular imagery.
This year's sacred issue, designed by Louise Méthé, showcases The Adoration of the Shepherds, a vibrant oil-on-panel painting housed at the Art Gallery of Ontario. Attributed to Italian artist Tommaso di Stefano Lunetti (c. 1495-1564), this carefully composed masterpiece was based on Luke's gospel, in which angels announced the birth of Jesus to shepherds, who then rushed from their fields to find their newborn saviour.
The Christmas Animals stamps were designed by Hélène L'Heureux, with illustrations by Christiane Beauregard. They feature three classic Canadian creatures – a cheery polar bear (Permanent domestic rate), a brilliant red cardinal (U.S. rate), and a caribou festooned with lights (International rate) – that are sure to add a touch of festive whimsy to your holiday mail.
(Click here for stamps images)
For more information:
Media relations
613-734-8888
media@canadapost.ca