Canada Post marks the Halifax Explosion with new stamp
Illustration, front-page story capture moments before and after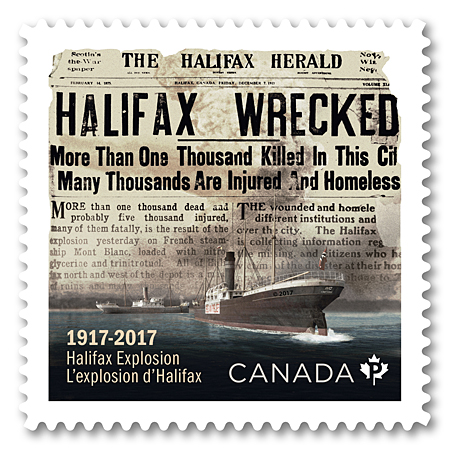 HALIFAX – Today, Canada Post issued a stamp commemorating the devastating explosion that rocked Halifax on the morning of December 6, 1917, when two ships – one loaded with explosives – collided in the narrows leading to its harbour. Released one month before the 100th anniversary of that fateful day, the issue also salutes the resilience of the Haligonians who rebuilt their city from the ashes.
"With this stamp, Canada Post remembers those whose lives were lost or forever changed in this terrible incident," says Deepak Chopra, President and CEO of Canada Post. "We also pay tribute to the residents of Halifax, other Canadians and people from around the world who helped those affected and contributed to the recovery effort."
The stamp captures the moments before and after the disaster through elements from the past and present. Since few photos exist of the doomed ships just before the accident, local illustrator Mike Little recreated the scene based on historic accounts and materials. An image of the front page of The Halifax Herald the day after the explosion shows the heartbreaking aftermath. The stamp was designed by Larry Burke and Anna Stredulinsky of Burke & Burke in Halifax.
Halifax was a bustling port supplying Canada's efforts in the First World War in 1917. The blast occurred when a fire detonated munitions aboard the French ship Mont-Blanc after it struck the Imo, a Norwegian cargo ship. The largest human-made explosion in history, prior to the detonation of the first atomic bomb. It claimed the lives of nearly 2,000 people, injured 9,000 more, and damaged property worth millions of dollars.
Click here for images of the stamp and the official first day cover.
For more information:
Media Relations
613-734-8888
media@canadapost.ca