From Far and Wide: New nine-stamp issue showcases Canada's visual splendour
Picturesque stamps capture the beauty of some of our country's most scenic and unique locations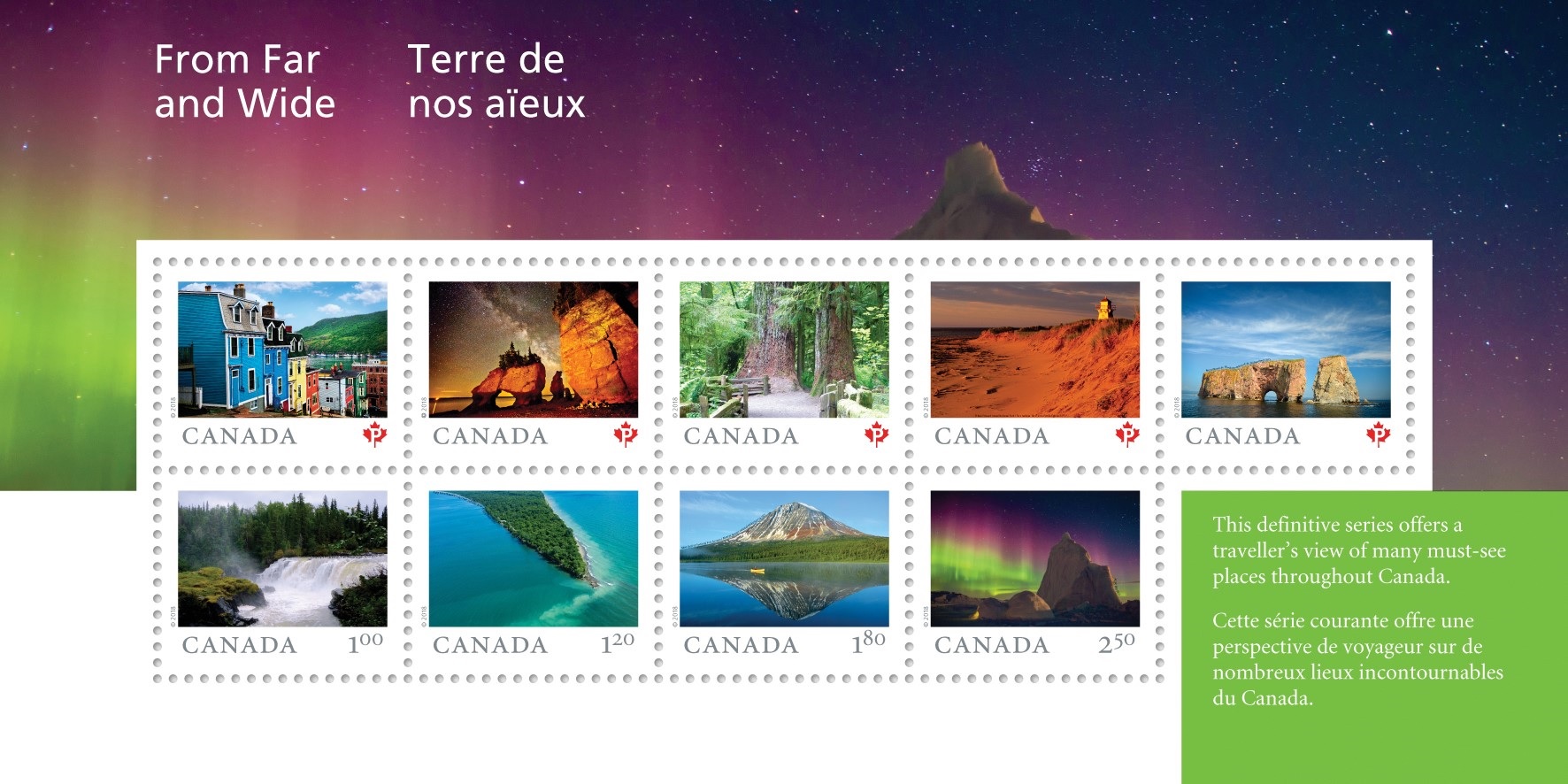 OTTAWA – Canada Post has issued the first nine stamps in a multi-year series that captures stunning landscapes across the country through a traveller's view of must-see destinations.
With a title inspired by a line in our national anthem, these beautiful stamps are now available to whisk Canadians away on a vivid visual journey to some of the most incredible places this country has to offer. Known by collectors as "definitives", these are the smaller, workhorse stamps used most often for everyday mailings – and therefore the postage most Canadians see on much of their mail.
Nine stamps form a breathtaking cross-country journey
The nine-stamp issue includes five Permanent™ stamps plus one each in the US-rate, Oversized-rate and International-rate denominations, and the single-purchase $1 domestic rate. The locations featured on the 2018 edition of the new series are:
The "jellybean houses" of St. John's (N.L.)
Hopewell Rocks (N.B.)
Cathedral Grove in MacMillan Provincial Park (B.C.)
Covehead Harbour in Prince Edward Island National Park (P.E.I.)
Percé Rock in Parc national de l'Île-Bonaventure-et-du-Rocher-Percé (Que.)
Pisew Falls Provincial Park (Man.)
Point Pelee National Park (Ont.)
Nááts'įhch'oh National Park Reserve (Nt.)
Arctic Bay (Nvt.)
The Permanent™ domestic booklets are available in 10- and 30-stamp booklets (two or six of each image respectively), while the US-rate, Oversized-rate and International-rate denominations are available in booklets of six. The issue also includes a souvenir sheet and a variety of stamp formats for collectors, as well as an Official First Day Cover, cancelled in Leamington, ON, to mark the 100th anniversary of nearby Point Pelee National Park, featured on the $1.20 US-rate stamp. The issue was designed by Stéphane Huot of Montréal and printed by the Lowe-Martin Group.
For more information:
Media Relations
613-734-8888
media@canadapost.ca