Canada Post heralds spring with Lotus issue
Annual flower issue a perennial favourite with gardeners and soon-to-be-weds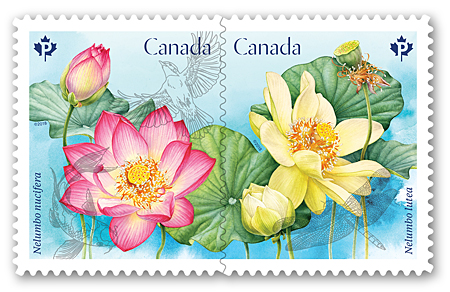 OTTAWA – Canada Post will once again bring some colour and freshness into the lives (and mail) of winter-weary Canadians with its annual flower stamp issue. This year, the focus is on aquatic blooms, with the domestic-rate PermanentTM stamps featuring two varieties of lotus:
The only lotus indigenous to this continent, the American lotus (Nelumbo lutea) has a creamy yellow flower and needs warmth and sunshine. The rare and threatened species grows at its northern limit along the shores of lakes Erie and St. Clair in southern Ontario. It is also found in wetlands in most of the eastern United States and as far south as Honduras.
The sacred lotus (Nelumbo nucifera), bearing delicate pink and white petals, is the national flower of India and has deep religious significance for Buddhists and Hindus. Native to the tropical and warm-temperate regions of Asia and Australia, the sacred lotus is cultivated in North America and can become wild.
Because this issue is so popular for wedding invitations and stationery, the stamps are available in booklets of 10, with five of each design, or coils of 50 offering 25 of each design. A two-stamp souvenir sheet is available for collectors, along with strips of four and 10 stamps from the coil. An Official First Day Cover featuring both stamps is cancelled in Waterdown, Ontario. The stamps were designed by Parcel Design of Toronto based on watercolours by Eunike Nugroho and printed by the Lowe-Martin Group.
For more information:
Media Relations
613-734-8888
media@canadapost.ca