Eye-catching new stamps showcase work of five great Canadian illustrators
Issue pays homage to outstanding artists of past half century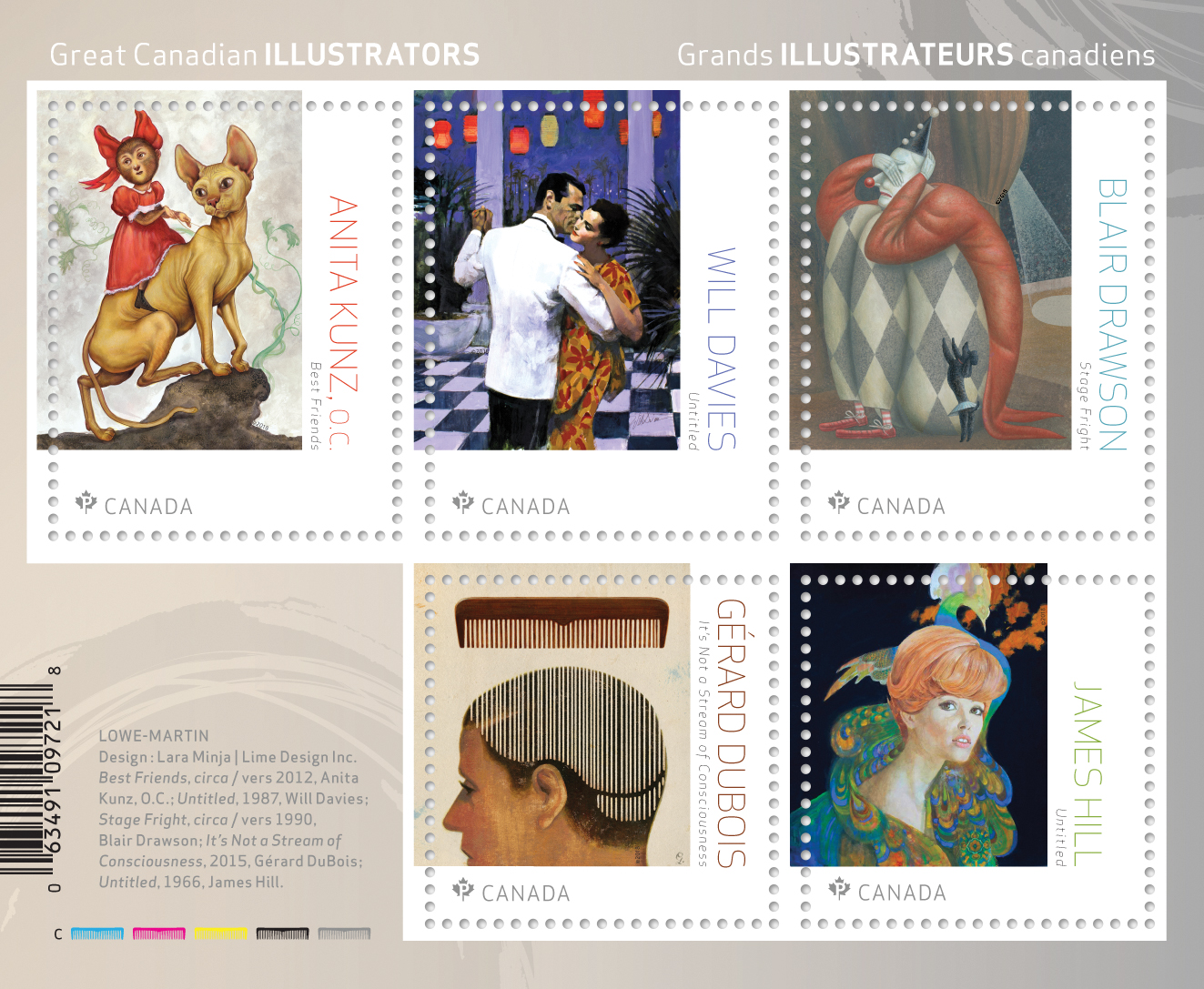 TORONTO – Canada Post pays tribute to five talented Canadians whose illustrations have appeared in books, magazines, advertisements, and galleries – and on postage stamps – over the past 50 years in this special issue featuring some of their favourite works.
Canada's rich history in the field of commercial art and illustration is celebrated through the diversity of techniques, topics, and treatments showcased in this colourful set, which honours Will Davies, Blair Drawson, Gérard DuBois, James Hill and Anita Kunz.
Will Davies (1924-2016) was a legend in the world of Canadian commercial art. His work combined a passion for beauty and the human form with uncanny technical skill. His ability and love of his craft are captured in this glamorous lifestyle portrait from one of the many romance novels he illustrated.
Blair Drawson was an illustrator for many of North America's most notable magazines before he decided to focus on writing and illustrating books – including nearly a dozen of his own – as well as painting and teaching courses in his craft.
Gérard DuBois has not looked back since relocating from France to Montréal to become a freelance illustrator. His expanding body of work ranges from book and magazine illustrations to commercial projects and exhibitions of his paintings.
James Hill (1930-2004) was one of the most sought-after illustrators in North America from the 1950s to 1970s. A prolific artist who appeared in major publications, galleries, and ad campaigns, he focused the last 25 years of his life on fine arts, wilderness landscapes and portraits.
Anita Kunz is one of the most iconic illustrators of our time, known for her bold and irreverent illustrations and provocative portraits of famous figures. Internationally acclaimed, she is a popular speaker and has been published and exhibited in many countries.
The stamps, launched today at OCAD University – where several of these illustrators trained or taught – complements past issues that feature the work of great Canadian photographers and painters. They are available for purchase on canadapost.ca and at postal outlets across Canada.
Click here for Details magazine.
For more information:
Media Relations
613-734-8888
media@canadapost.ca