Astronomy stamps showcase Milky Way, Northern Lights
Canadians provide stunning photos of celestial phenomena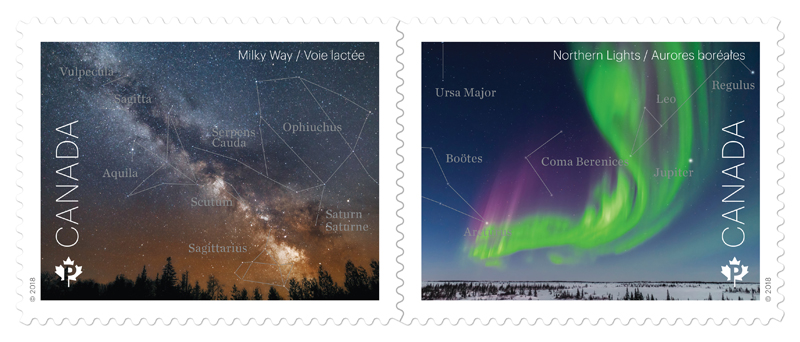 CALGARY – Celestial events like meteor showers, solar and lunar eclipses, comets and asteroids make headlines because they inspire a sense of wonder. Canada Post's latest stamps are sure to do the same. They showcase the majestic splendour of two spectacular phenomena: the Milky Way and the Northern Lights.
The stamps feature stellar photographs from two Canadian night sky photographers who have been drawn to the magic and beauty of the heavens throughout their careers. Matt Quinn's stunning photo of the Milky Way was taken at Bruce Peninsula National Park in Ontario, while Alan Dyer captured a magnificent image of the Northern Lights in Churchill, Manitoba. Both photographs were taken in 2016.
Thanks to the darkness created by our country's vast wilderness, Canadians enjoy some of the greatest night sky viewing in the world.
The Milky Way, a spiral galaxy containing our solar system and hundreds of billions of stars, manifests as an ethereal band of light in Quinn's ghostly image. The brilliant colour of the Northern Lights is green in Dyer's photo but can also appear in undulating reds, blues, yellows, pinks and purples. The phenomenon occurs when charged particles released by the Sun interact with the Earth's magnetic field and upper atmosphere.
The stamps were issued on the occasion of the 150th anniversary of the Royal Astronomical Society of Canada and salute its commitment to educating Canadians about the wonders of the universe. Founded in Toronto in 1868, the society has more than 5,000 members across Canada.
The cover of the booklet of 10 and the Official First Day Cover include decorative astronomy-themed illustrations – a satellite, a celestial body and an observatory, a subtle tribute to the National Research Council of Canada's Dominion Astrophysical Observatory in Victoria, B.C., which celebrates its 100th anniversary this year.
Designed by Parcel Design of Toronto, each stamp includes metadata – the date and time the photograph was taken, coordinates and type of camera lens used for the photo – in special ink in the borders, making it visible only under a black light. Lines and names overlaid on the images highlight constellations.
Click here for stamp images and Details magazine. The stamps were issued today and are available at post offices and online at canadapost.ca/shop.
For more information:
Media Relations, 613-734-8888
media@canadapost.ca