Canada Post stamp honours the country's paramedics
This is the first of five stamps to be unveiled this week to reflect Canadians' gratitude for all emergency responders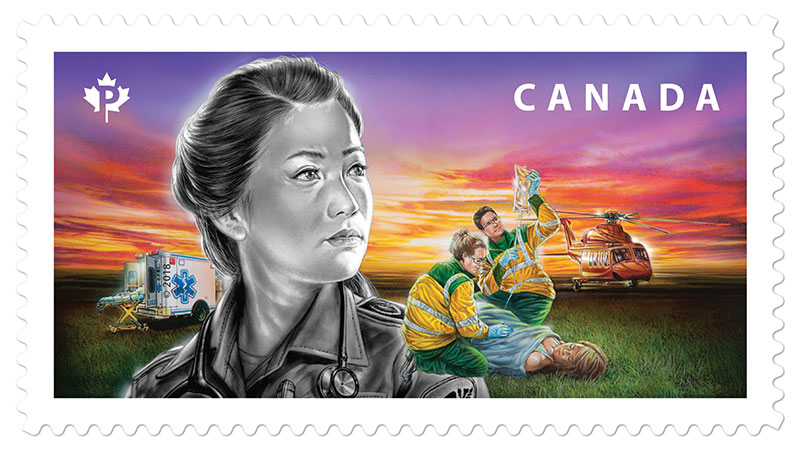 FREDERICTON, N.B. – Canada Post today unveiled a stamp that honours the country's paramedics for providing life-saving medical care to Canadians.
These skilled, highly-trained and compassionate front-line emergency responders provide medical care on the scene and en route to hospital. They respond to natural disasters and emergencies in our communities. They attend virtually any situation – from heart attacks, drug overdoses, trauma events, and incidents involving multiple casualties. Once dispatched to an emergency, paramedics have some daunting expectations to meet, including arriving quickly, assessing and treating their patients with urgency, expertise and empathy, and co-ordinating with other emergency responders. Their expertise and professionalism has saved countless lives.
The stamp was unveiled at the Ambulance New Brunswick headquarters in Fredericton.
Canada Post and the stamp designers consulted with the Paramedic Association of Canada, which represents more than 20,000 practitioners, to ensure the stamp image is representative of paramedics in Canada.
The five Emergency Responders stamps
The other Emergency Responders stamps pay tribute to the Canadian Armed Forces, search and rescue experts, firefighters and police. All five stamps reflect Canadians' respect and gratitude for the skills, service and sacrifices of the men and women who protect Canadians, sometimes by risking their own lives.
The stamp honouring members of the Canadian Armed Forces will be unveiled at Base Valcartier in Quebec tomorrow. A stamp honouring search and rescue experts will be unveiled in Banff, Alta. on Wednesday. The firefighters stamp will be unveiled in Halifax on Thursday and a stamp paying tribute to police officers will be unveiled in Ottawa on Friday.
The stamps will be available for purchase on canadapost.ca and at postal outlets across Canada as of Friday, September 14. Click here for high resolution images of the stamp and Official First Day Cover.
For more information:
Media Relations
613-734-8888
media@canadapost.ca