Canada Post honours the country's firefighters with stamp
Fourth of five stamps to be unveiled this week to reflect Canadians' gratitude for all emergency responders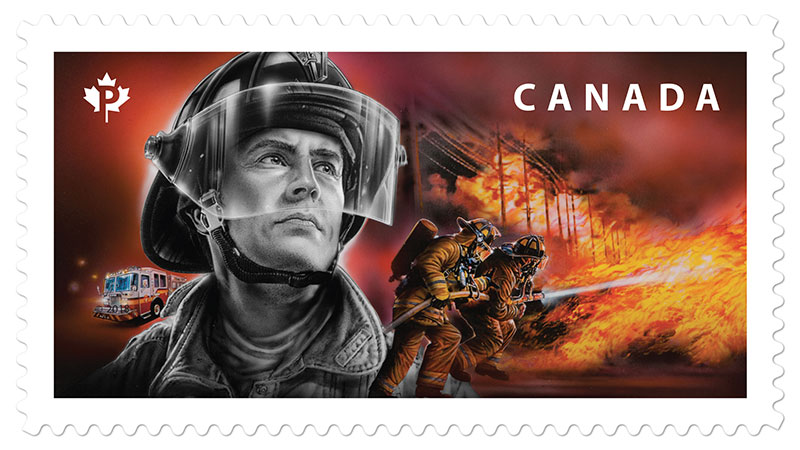 HALIFAX, N.S. – Canada Post today unveiled a stamp that honours the country's firefighters for saving lives and protecting property and the environment with their skills and courage.
Few emergencies trigger such an immediate sense of threat as a fire breaking out in our homes or communities, or being injured and trapped in a vehicle after a serious collision. In situations that might make most people panic, firefighters arrive well equipped and trained to intervene as a cohesive team.
Able to respond to emergencies at a moment's notice, firefighters do much more than fight fires and rescue victims from burning buildings. They also provide emergency medical services and perform difficult technical rescues and extractions. They respond to vehicle collisions, overdoses, hazardous-material emergencies and other life-threatening events. As well, they make Canada safer by educating people about fire prevention, investigating fires and enforcing fire codes.
The stamp was unveiled in Halifax with the participation of Halifax Regional Fire & Emergency, Canada's oldest firefighting department, established in 1754.
Canada Post and the stamp designers consulted with the Canadian Association of Fire Chiefs, whose members represent roughly 3,500 fire departments across Canada, to ensure the stamp accurately represents firefighters.
The five Emergency Responders stamps
The other Emergency Responders stamps pay tribute to paramedics, the Canadian Armed Forces, search and rescue experts and police. All five stamps reflect Canadians' respect and gratitude for the skills, service and sacrifices of those who protect Canadians, sometimes by risking their own lives.
The paramedics stamp was unveiled at the Ambulance New Brunswick headquarters in Fredericton, N.B. on Monday, and a stamp honouring members of the Canadian Armed Forces was unveiled at Base Valcartier in Quebec, Tuesday. A stamp honouring search and rescue experts was unveiled in Banff, Alta. yesterday, and a stamp paying tribute to police officers will be unveiled in Ottawa tomorrow.
The stamps will be available for purchase on canadapost.ca and at postal outlets across Canada as of Friday, September 14. Click here for high resolution images of the announced stamps and their Official First Day Cover.
For more information:
Media Relations
613-734-8888
media@canadapost.ca