Rocky Mountain bighorn sheep scales high-value stamp
New issue created using traditional intaglio printing process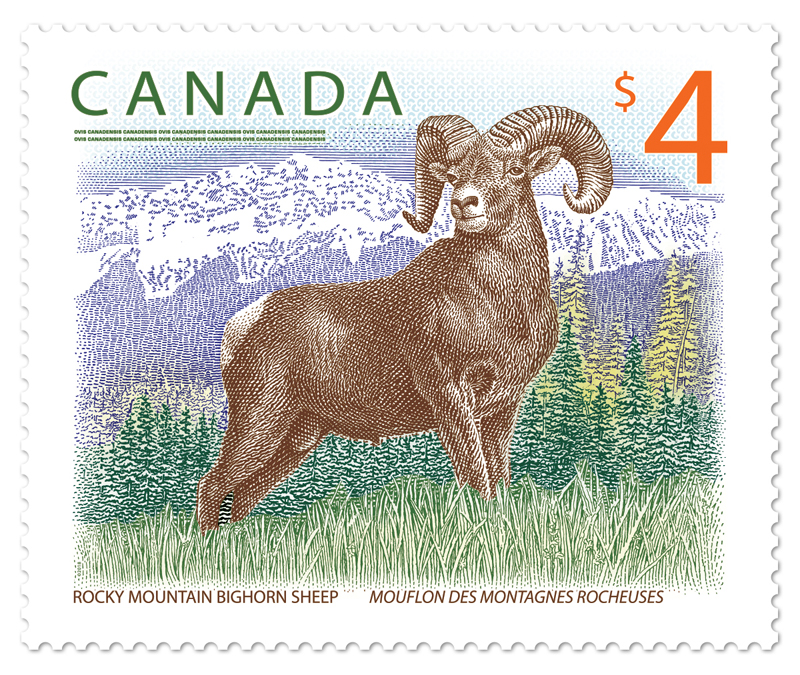 OTTAWA – A legendary climber of the Rocky Mountains' sheer crags pauses in a majestic pose on Canada Post's newest large-format, high-value definitive stamp. Valued at $4, the stamp is part of an ongoing Canadian wildlife series.
Rocky Mountain bighorn sheep (Ovis canadensis canadensis) live on the steep grasslands and rugged terrain of the Rocky Mountains in British Columbia and Alberta, and south to Colorado and New Mexico. Their split hooves make them legendary climbers, known to scale high rocky peaks. Overhunting, loss of habitat and diseases that spread from domestic livestock significantly reduced their numbers in the late 1800s and early 1900s. While conservation efforts have helped to increase some populations, the bighorn sheep is designated of "special concern" in British Columbia.
The stamp was created using both lithographic and intaglio printing. The background was created using lithography, the process used to create most modern Canadian stamps. This base was then overprinted with a four-colour intaglio plate that added the detailed engraving of the sheep, mountains and foliage. At one time, all Canadian stamps were engraved or intaglio; lithography was introduced to Canadian postage in 1952. As with previous stamps in the high-value series, the stamp incorporates hidden security features.
The intaglio plates were created by master engraver Jorge Peral, who worked on other stamps, including the $8 Grizzly (which launched the wildlife series in 1997) and $10 Blue Whale (2010). He has also engraved paper currency in Canada and several other countries.
The stamps are available in a pane of four (souvenir sheet). Additional collectibles include an Official First Day Cover (OFDC) cancelled in Jasper, AB; a limited edition uncut press sheet with nine panes of four stamps signed by master engraver Jorge Peral; a framed and numbered lithographic print signed by illustrator Rodrigo Peral; and a framed enlargement of the stamp image, plus the actual stamp.
Stamps and collectibles can be pre-ordered today online at canadapost.ca/shop.
Click here for stamp images and Details magazine.
For more information:
Media Relations
613-734-8888
media@canadapost.ca