Stamp marks 100th anniversary of Armistice of 1918
Our soldiers' immense sacrifice had a profound impact on Canada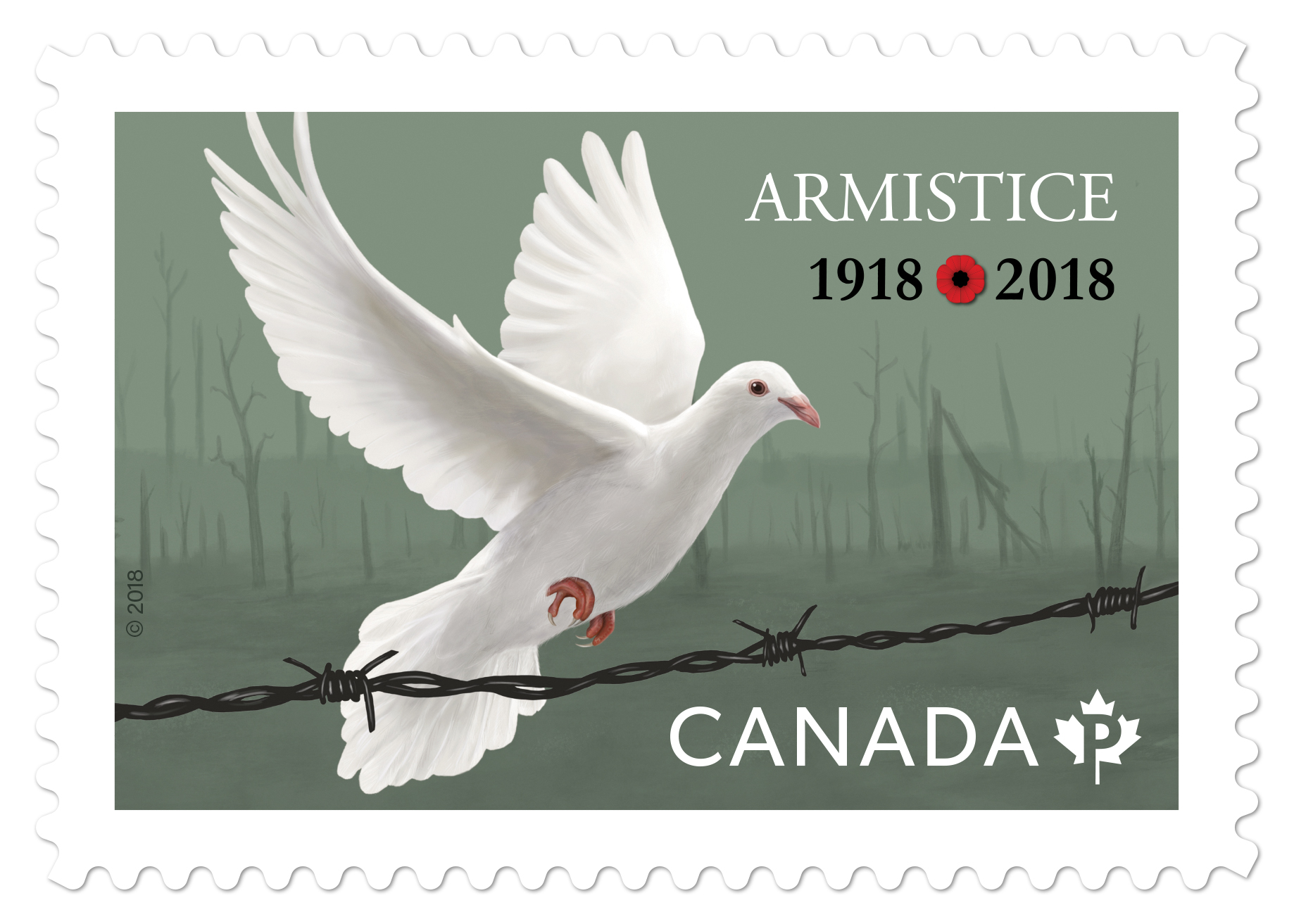 OTTAWA – Canada Post unveiled a stamp today that celebrates the 100th anniversary of the armistice that ended the First World War, a conflict that irrevocably changed Canada and its status on the world stage.
Canadian soldiers stood fast at Ypres, stormed the Regina Trench, climbed the heights of Vimy Ridge, captured Passchendaele and, on November 11, 1918, entered Mons. The immense sacrifice of our soldiers earned the country widespread recognition and had a profound impact on Canada.
The stamp depicts a dove suspended above barbed wire and includes the image of a poppy, a powerful symbol of remembrance and the principal emblem of The Royal Canadian Legion. The imagery symbolizes struggle, peace and remembrance and honours those who made the supreme sacrifice in defence of freedom and democracy.
The stamp was unveiled at the Perley and Rideau Veterans' Health Centre, which has a responsibility to provide care for veterans. The stamp is cancelled in Ottawa, home of the National War Memorial, which appears on the back of the Official First Day Cover.
At the unveiling event, Thomas D. Irvine, Dominion President of The Royal Canadian Legion, introduced the Legion's Bells of Peace Initiative in partnership with Veterans Affairs Canada. At the setting of the sun on November 11, the Parliament Hill carillon and bells at Legion branches and spiritual centres across the country will ring 100 times to mark the sacrifices of our veterans and the joy that peace brought at the end of the war. Youth will also be engaged to research locations and place flags on the graves of Canadian Veterans of the Great War.
Canada's war effort was remarkable, but victory came at a terrible price. Of the more than 650,000 Canadians who served with the Allies, more than 66,000 were killed and 172,000 wounded.
After more than four years of horrific trench warfare, fighting came to an abrupt end at the 11th hour of the 11th day of the 11th month of 1918. The armistice signed earlier that morning in a railway car near Compiègne, France, silenced the guns on the Western front and brought relief to the world that had never before seen such a conflict.
The stamp, which comes in a booklet of 10 is available on canadapost.ca and at postal outlets across Canada. Click here for high resolution images of the stamp and Official First Day Cover.
Associated links:
Legion.ca/bellsofpeace
veterans.gc.ca/100days
For more information:
Media Relations
613-734-8888
media@canadapost.ca