Canada Post sweetens Valentine's Day with new flower issue
Fragrant gardenias mean "I think you're lovely" in the Victorian language of flowers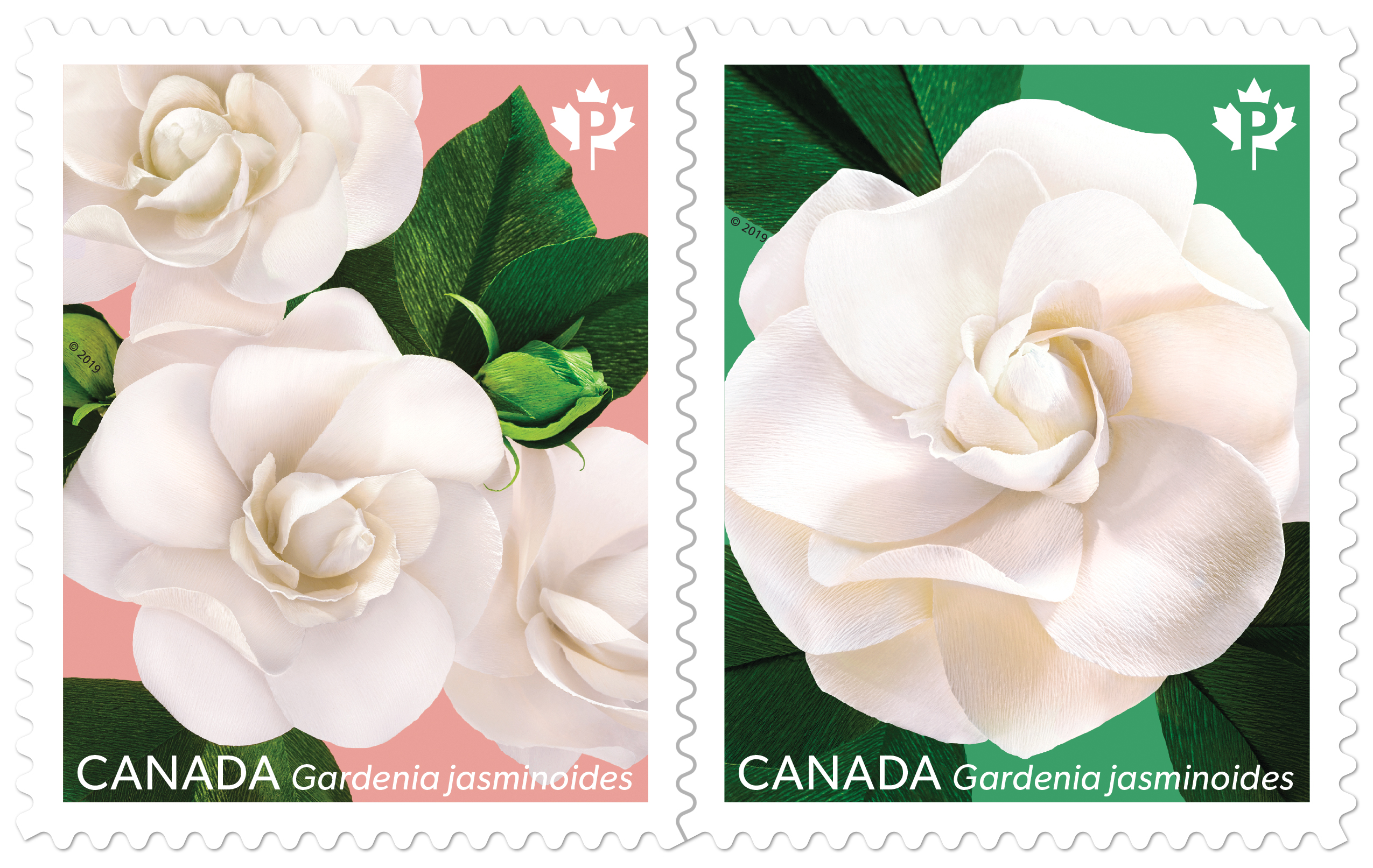 OTTAWA – With so many of Canada Post's annual flower stamps found on wedding stationery, it seems fitting that this year's featured flower has had a long association with love and romance. The delicate, creamy white gardenia, with its heady fragrance, was a traditional choice for wedding bouquets, corsages and boutonnières. In the days of the Victorians, the gifting of a gardenia conveyed a tender message to one's beloved for those too shy to do so in person.
The two stamps feature different views of the Cape jasmine gardenia (Gardenia jasminoides), the most commonly grown variety, so named for its jasmine-like scent. A member of the coffee, or madder, family (Rubiaceae), the flower's white blossoms were traditionally seen as a symbol of purity, a connotation that may have led to their choice as a wedding flower.
For added convenience for use on wedding invitations and stationery, the stamps are available in booklets of 10, with five of each design, or coils of 50 offering 25 of each design. A two-stamp souvenir sheet is available for collectors, along with strips of four and 10 stamps from the coil. An Official First Day Cover featuring both stamps is cancelled in Flower's Cove, N.L. The stamps were designed by Andrew Conlon and Lionel Gadoury of Context Creative, with art by Chantal Larocque, inspired by a photo by Natasha V. The booklet, souvenir sheet and Official First Day Cover were printed by Colour Innovations and the coils printed by the Lowe-Martin Group.
The stamp comes in a booklet of 10 and is available at canadapost.ca and at postal outlets across Canada. Follow these links for high resolution images and for additional information in Details magazine.
For more information:
Media Relations
613-734-8888
media@canadapost.ca