Canada Post makes sending and receiving mail even sweeter
Sweet Canada stamps serve up traditional Canadian desserts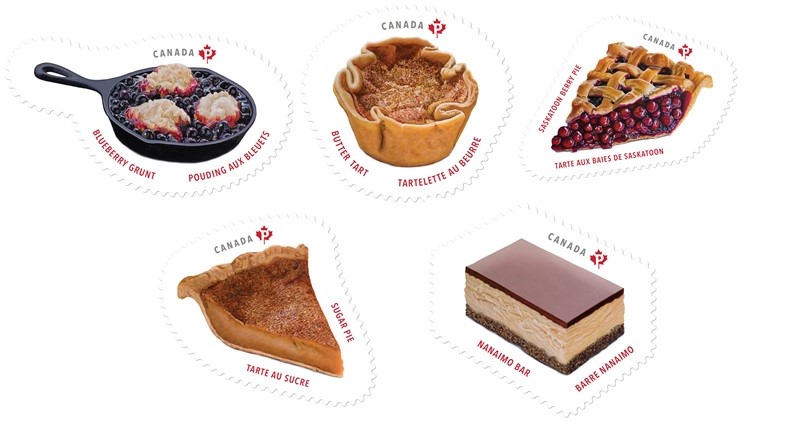 OTTAWA – Here's a tasty fact: traditional Canadian desserts offer more than a scrumptious end to a meal. Behind many sweet treats is lore about Canada's history, such as a pie made from the berries that once helped Indigenous communities survive long prairie winters to the tarte au sucre that reminded colonists in New France of their former homeland.
The five colourful stamps depict traditional made-in-Canada desserts, with additional collectibles inspired by old-fashioned recipe cards. Each stamp celebrates a regional dish, offering collectors and mailers a coast-to-coast dessert buffet. The menu includes:
Tarte au sucre (sugar pie), with its European origins, which was adopted by settlers in New France and is an indispensable offering of Quebec pâtisseries;

The butter tart, first referenced in a turn-of-the-20th-century Barrie, Ont., cookbook, is now at the heart of tours and baking contests throughout the province;

Saskatoon berry pie, which is filled with the regional berries that were a staple for Indigenous people and early settlers. Their name in the Cree language, misâskwatômina, also inspired the name of this prairie city;

The creamy custard-filled refrigerated bar, with irresistible chocolate layers, which first appeared as a "Nanaimo bar" in Nanaimo, B.C. cookbooks in the mid-20th century;

Blueberry grunt, which combines dumplings and the abundant blueberries of Canada's east coast. The delightful "grunt" in the name captures the sound berries make as they simmer around the dough.
The PermanentTM domestic-rate stamps, designed by Subplot of Vancouver, illustrated by Mary Ellen Johnson and printed by Canadian Bank Note, are available in booklets of 10. A souvenir sheet and a souvenir sheet Official First Day Cover, cancelled in two of the desserts' namesake cities, Nanaimo and Saskatoon, are also available for purchase at your local post office or www.canadapost.ca/shop.
Follow these links for high resolution images and for additional information in Details magazine.
For more information:
Media Relations
613-734-8888
media@canadapost.ca