Canada Post's newest stamp honours the Vancouver Asahi
Last survivor of the team that invented "brain ball" helps lift the veil on the stamp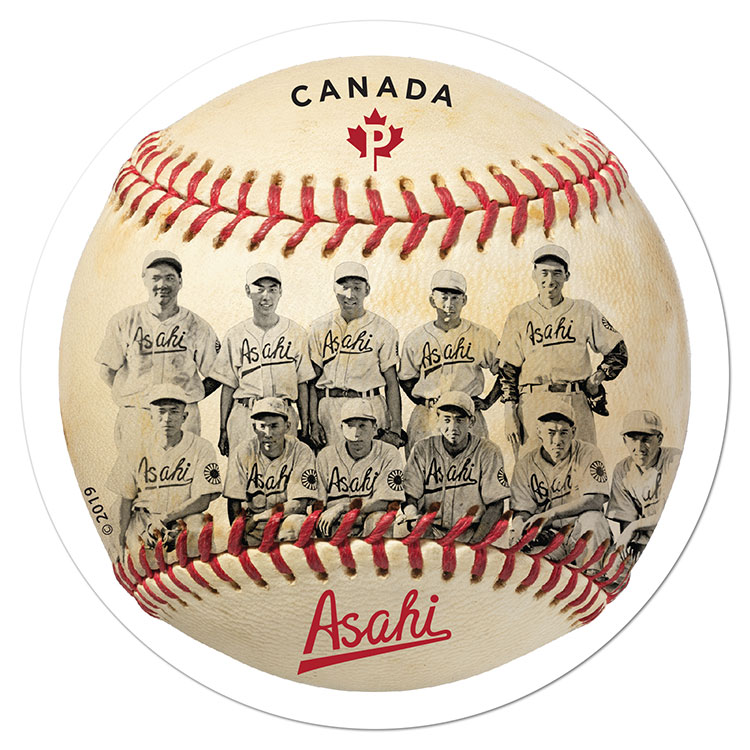 BURNABY, B.C. – Canada Post today released a stamp that honours an amateur Japanese-Canadian baseball team that helped remove racial barriers through sport.
The Vancouver Asahi story is well-known in baseball circles, but the stamp honouring the team is about more than baseball. It also tells a uniquely Canadian story about a dark time in our country's history – a time of overt racism and fear.
It tells the story of adversity, determination and fortitude – a tragic story that ended in reconciliation and forgiveness.
Formed in 1914, the Asahi thrilled fans and filled Japanese Canadians with hope over almost three decades of play on Vancouver's east side. The team won many senior league championships before being forced to disband shortly after Canada declared war on Japan in 1941. During the Second World War, Canada interned more than 20,000 people of Japanese descent, most of them Canadian citizens.
"Canada's forcible confinement of Japanese-Canadians during the Second World War remains one of the most tragic events in Canadian history," says the Honourable Carla Qualtrough, Minister of Public Services and Procurement and Accessibility, who is responsible for Canada Post. "This stamp reflects the Asahi's determination to overcome racism and discrimination through the power of sport. Asahi players exhibited integrity, honour and fair play and were shining examples of what it means to be truly Canadian."
The Asahi developed a unique style of play to compete against bigger, more powerful teams. Dubbed "brain ball," it involved bunts, base stealing and squeeze plays to score runs – and wins. Their style of play was so successful that, in 1927, the team won a game 3-1 without technically collecting a hit.
The Asahi grew to near mythic proportions within the Japanese-Canadian community; most boys in Vancouver's "Little Tokyo" dreamed of playing for the team.
Kaye Kaminishi, a third baseman and the last surviving member of the Vancouver Asahi, helped unveil the stamp at the Nikkei National Museum & Cultural Centre. Ninety-seven today, he was joined by players from the Asahi Baseball Association, which was inspired by the original team.
The Vancouver Asahi stamp displays 11 Asahi players from the 1940 team, including Kaminishi, who appears in the back row, second from left. Designed by Subplot Inc. of Vancouver, the baseball-shaped stamp is available in booklets of 10. There is also an Official First Day Cover cancelled in Vancouver.
Click here for stamp images and Details magazine.
For more information:
Media Relations,
613-734-8888
media@canadapost.ca