Canada Post cultivates thoughts of spring with dahlia stamps
Popular wedding flower is a favourite with Canadian gardeners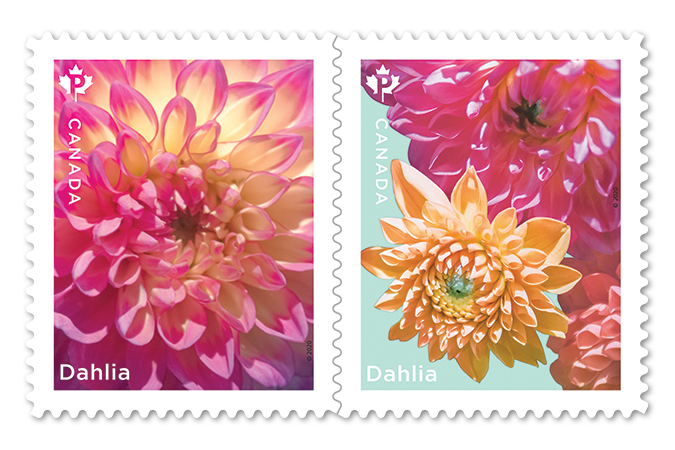 OTTAWA – Just in time to comfort the winter weary, Canada Post has released its annual flower stamp issue. This year's offering features the colourful dahlia, a familiar standby for many Canadian gardeners.
Spikey, showy and uncomplicated, dahlias are part of the Asteraceae family, which includes sunflowers, daisies, chrysanthemums and zinnias. Single or double flowering, dahlias come in a rainbow of colours (except blue). Considered an annual in Canada, these robust plants will bloom in most parts of the country from mid-summer until the first frost. In the Victorian era, dahlias were exchanged by couples as a show of commitment. They are still widely used in weddings and are said to symbolize honesty, balance, inner strength, creativity, positive change and kindness. More recently, the dahlia has become symbol of diversity, given the seamless way each petal fits into the whole flower head.
The stamps are available in booklets of 10 – five of each of the two designs – with matching envelope seals, as well as in convenient coils of 50, offering 25 of each design, for use on wedding invitations and stationery. A two-stamp souvenir sheet is available for collectors, along with strips of four and 10 stamps from the coil. An Official First Day Cover featuring both stamps is cancelled in Bloomfield, N.L. The stamp was designed by Lionel Gadoury, Umaymah Motala and Malika Soin of Context Creative, with photography by Veronique Meignaud. The booklet, souvenir sheet and Official First Day Cover were printed by Canadian Bank Note and the coil by Lowe-Martin.
Stamps and collectibles are available at canadapost.ca and at postal outlets across Canada. Follow these links for high-resolution images and for additional information in Details magazine.
For more information:
Media Relations
613-734-8888
media@canadapost.ca