Eid Mubarak! New stamp heralds coming of two Islamic festivals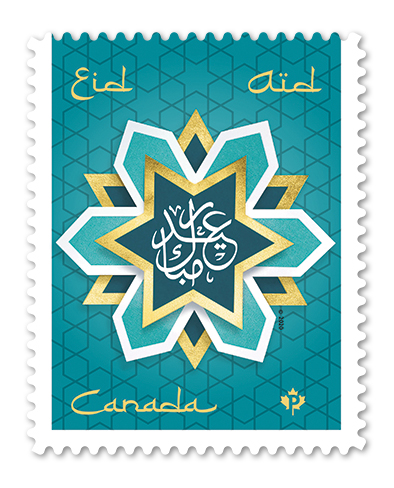 TORONTO – Today, Canada Post issued a new commemorative stamp to mark Eid al-Fitr and Eid al-Adha, the two most important festivals in the Islamic calendar. The events, which begin this year on May 23 and July 30, respectively, are celebrated by more than one million Muslims in Canada.
About the Festivals
Eid al-Fit, the Festival of Breaking the Fast, brings a joyful end to the holy month of Ramadan, during which many Muslims fast through the day. Eid al-Adha, the Festival of Sacrifice, marks the end of the annual pilgrimage to Mecca, plans for which could change this year due to the COVID-19 pandemic. Both celebrations can last several days and include congregational prayers, communal feasts, visits with family, the giving of gifts, and acts of charity.
About the Stamp
Designed by Context Creative, the stamp features Arabic calligraphy that reads Eid Mubarak – a common greeting that means "Have a blessed Eid." Printed by Lowe-Martin, the domestic-rate PermanenTM stamps are available in a booklet of 10 stamps and an Official First Day Cover.
Stamps and collectibles are available at canadapost.ca/shop.
Follow these links for high-resolution images and additional information in Details magazine.
For more information:
Media Relations
613-734-8888
media@canadapost.ca