Canada Post celebrates a century of radio broadcasting in Canada
Technology brought live news and entertainment into people's homes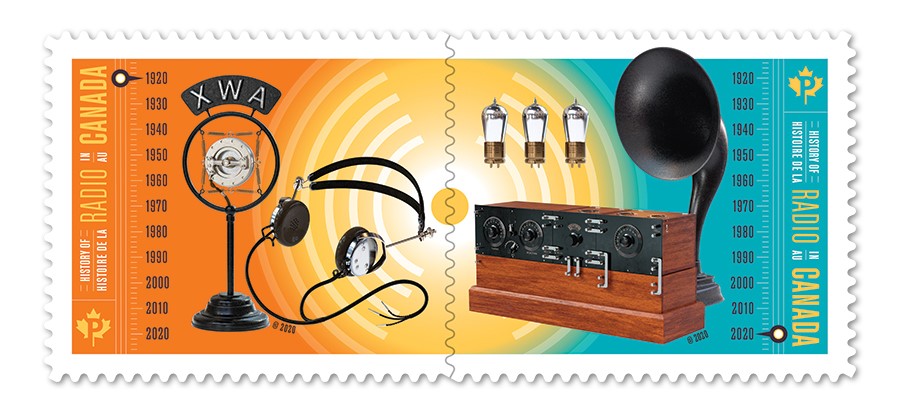 OTTAWA – Today, Canada Post issued a pair of stamps to mark the 100th anniversary of the first scheduled radio broadcast in Canada, an event that quickly changed the way Canadians experienced news and entertainment – at home and away.
On the evening of May 20, 1920, members of the Royal Society of Canada gathered at Ottawa's Château Laurier hotel for an event that would launch Canada into the radio age. They listened to a performance by soprano Dorothy Lutton, broadcast live on XWA (Experimental Wireless Apparatus) – the first station in Canada to receive an experimental radio licence. Although the ground-breaking broadcast was transmitted from the Marconi Wireless Telegraph Company of Canada's factory studio in Montréal to the Naval Radio Service in Ottawa, a receiving station and large amplifier had been set up for the occasion in the hotel's ballroom.
Later in 1920, XWA changed its call letters to CFCF – for Canada's First, Canada's Finest. In 1922, the station began commercial broadcasting. That year, Montréal's CKAC also became the first licensed radio station in North America to offer French-language programming. While early enthusiasts were mostly amateurs who built their own equipment, radio caught on quickly with mainstream listeners. Within two years of Canada's historic first broadcast, 34 radio stations were operating across the country. By the end of the decade, Canadians were tuning in on more than 300,000 radios.
Designed by Soapbox Design, illustrated by Oliver Burston and printed by Lowe-Martin, the issue's pair of se-tenant stamps – two joined stamp designs – showcases a selection of early 20th century radio broadcasting equipment and receiving devices. Booklets of 10 Permanent domestic-rate stamps (five of each design) are available, along with an Official First Day Cover.
Stamps and collectibles are available at canadapost.ca.
Follow these links for high-resolution images and for additional information in Details magazine.
Link to the video that you can share on your social channels: VIDEO.
For more information:
Media Relations
613-734-8888
media@canadapost.ca