Canada Post announces its first depot using all-electric vehicles
Nanaimo, B.C. depot will use 14 fully electric vans and operate as a test location for delivery to Canadians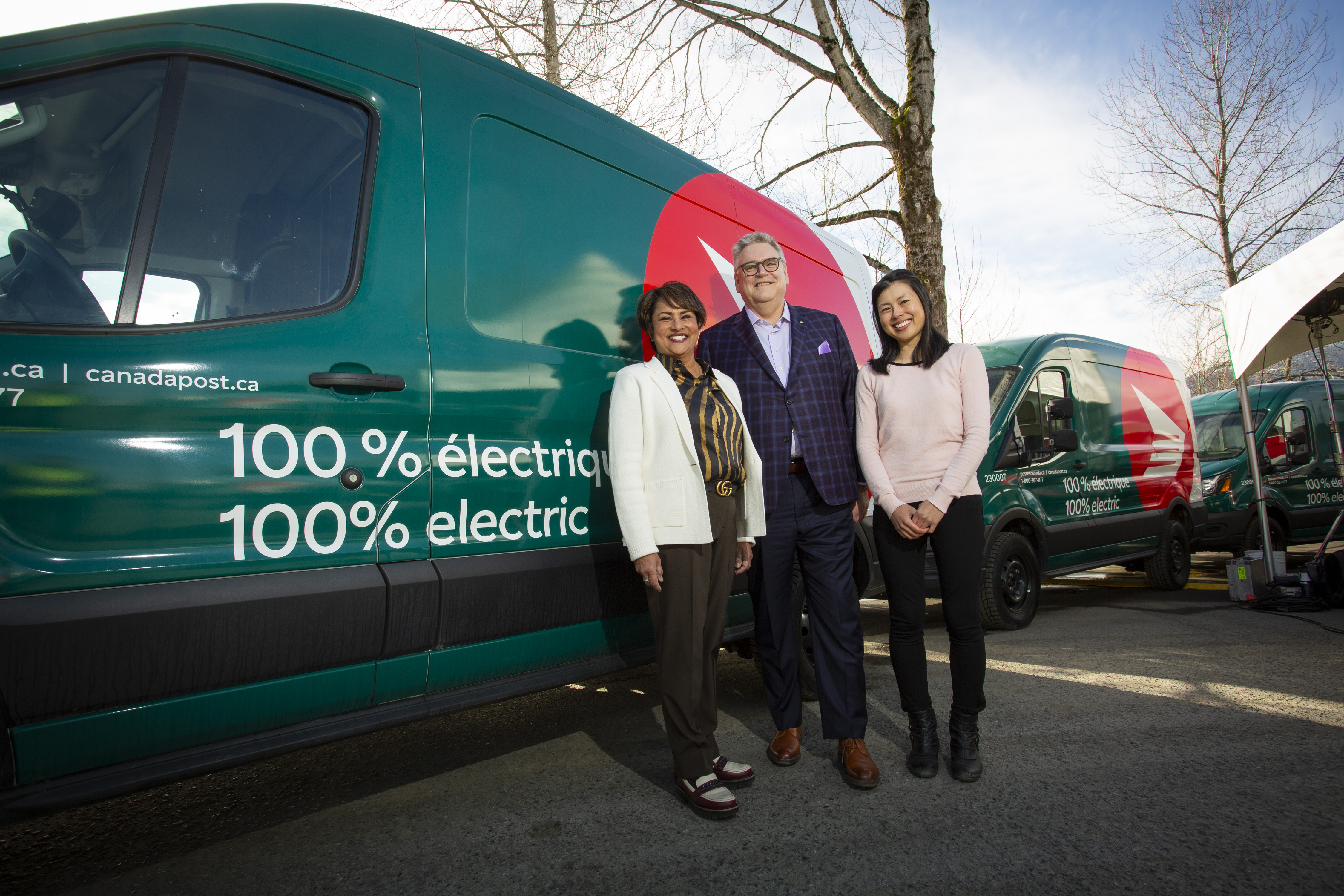 NANAIMO, B.C. – Canada Post today unveiled its first depot using battery-electric corporate delivery vehicles, reinforcing the company's commitment to electrify its last mile fleet and help build a sustainable future for Canadians.
The company's Nanaimo depot will use 14 fully electric cargo vans for collection and delivery services, replacing internal combustion vehicles. As part of Canada Post's plan to reach net-zero emissions by 2050, the company has committed to electrifying half of its national fleet of approximately 14,000 vehicles by 2030 and the entire fleet by 2040.
Doug Ettinger, President and CEO of Canada Post, and Suromitra Sanatani, Chair of the Board of Directors, were on site to announce the depot's official launch of its electric delivery vehicles.
A stronger, greener Canada
"Last year, the Corporation set aside more than $1 billion to cut emissions and move forward on the electrification of its last mile fleet. This critical investment has led to important progress on Canada Post's plan to achieve net zero emissions by 2050," said Ms. Sanatani. "Canadians expect their postal service to play a leading role in the country's transition to a low-carbon future. It's a responsibility that Canada Post embraces."
"Over Canada Post's long history, the postal service has always evolved to meet the changing needs of Canadians and businesses," Mr. Ettinger said. "Our transformation plan invests billions of dollars into service, capacity and greening our operations – because we need to deliver for Canadians, whether that's shipping parcels or helping to build a more sustainable future. When you look at the size of our network, this depot may be a small first step, but it's an important one as we start to build momentum."
Sustainable delivery
Canada Post has committed to a science-based target to reach net-zero emissions by 2050. The Corporation is retrofitting its facilities, constructing new net-zero carbon buildings, and sourcing renewable energy for its real estate and operations. The Albert Jackson Processing Centre, its leading-edge parcel sorting facility in Scarborough, Ontario, will operate as net zero and have the capacity to process more than a million packages a day.
Canada Post is building on decades of experience experimenting with electric and other low-emission vehicles. Now in the preliminary stage of its fleet electrification, the Corporation is introducing vehicles at select plants and depots to evaluate what equipment, charging infrastructure and approaches are best suited to its operational needs. The company has also been testing other innovative, sustainable delivery options. These include e-cargo trikes, which can travel using bike paths, and a compact, low-speed electric cargo vehicle appropriate for some neighbourhood delivery routes. Canada Post will be going to market to compete for new vehicles in a variety of classes.
For links to images of the vehicle and other resources:
Photo (left to right): Canada Post's Suromitra Sanatani, Chair of the Board of Directors, Doug Ettinger, President and CEO, and Sally Dam, Director, Urban Delivery Strategy, stand by one of the new fully electric cargo vans at the Nanaimo, B.C., depot. Photo: Pinpoint National Photography
– 30 –
For more information:
Media Relations
613-734-8888