Stamp celebrating Eid al-Fitr and Eid al-Adha features centuries-old bowl from the collection at the Royal Ontario Museum
Canada Post is proud to mark two festivals, celebrated by more than a million Muslims in Canada, with stamp featuring a bowl crafted in 1329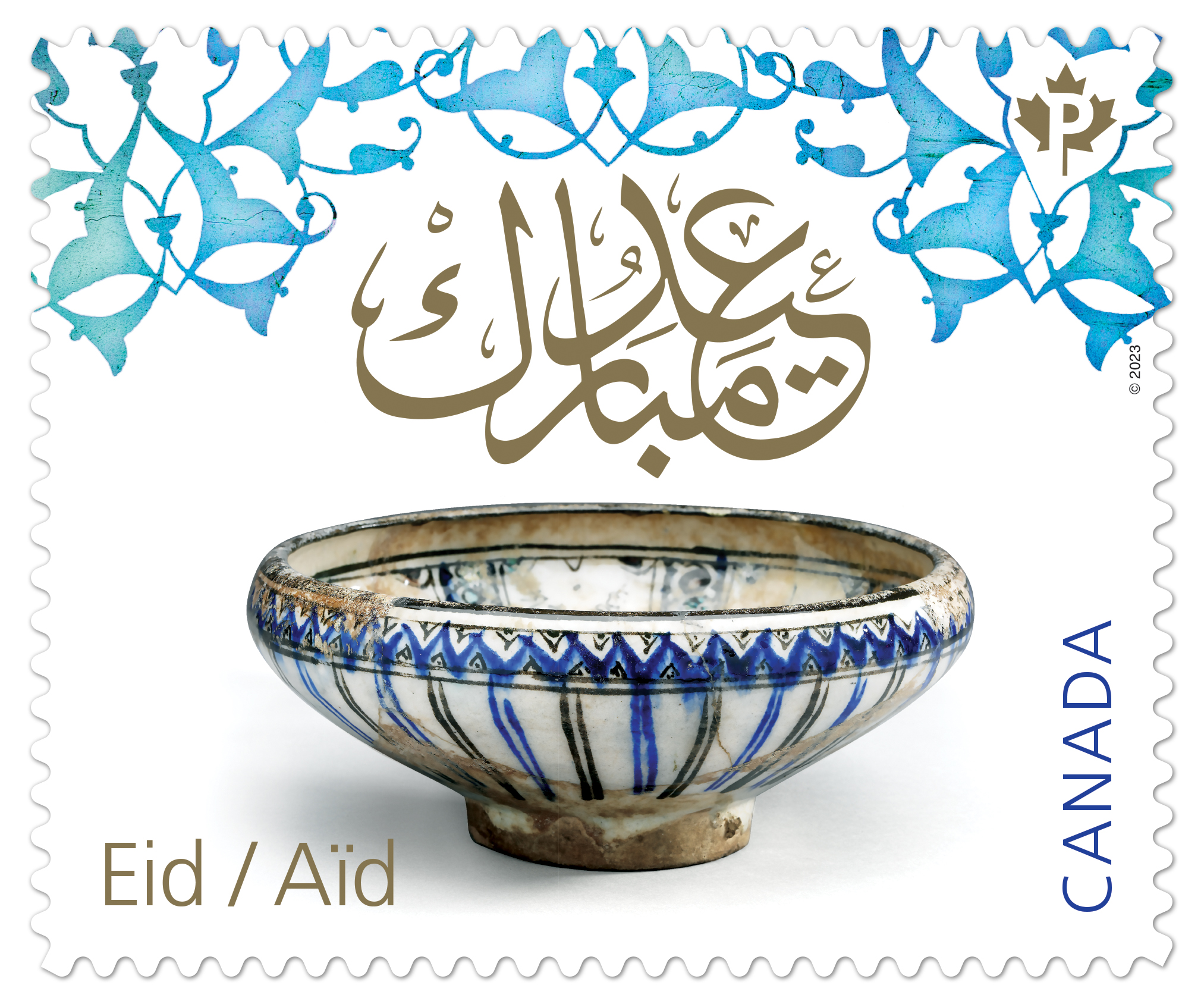 OTTAWA – Canada Post issued a new stamp today to mark two of the most important religious holidays in Islam: Eid al-Fitr and Eid al-Adha. The commemorative stamp features a centuries-old, exquisite ceramic bowl that is in a collection held by the Royal Ontario Museum (ROM).
The nearly 700-year-old bowl has a special connection to the festival of Eid al-Fitr, which celebrates the end of Ramadan, the month of fasting from sunrise to sunset – one of Islam's most distinctive practices. Above the bowl, the stamp includes the words Eid Mubarak, a traditional Arabic greeting that means "have a blessed Eid."
The hand-painted bowl was crafted in 1329 in Iran and is made of stonepaste – a hard material invented by Middle Eastern potters from a mixture of ground quartz, glass and clay. The bowl was likely used to serve dates, soups and other foods each night, to break the fast. It is inscribed on the inside with a Persian poem that blesses the owner of the bowl.
A treasure in the collection at the ROM
"This bowl is an absolute treasure, and the ROM is honoured to be able to safeguard it for future generations," says Dr. Fahmida Suleman, Curator of the Islamic World collections at ROM. "There's a deep sense of humanity in this bowl that still rings true, especially with all the turmoil in the world today," Suleman adds. "The poem urges us to take a moment to forget our sorrows and be grateful for what we have – and wishes us protection and a bit of luck. Blues are auspicious in Islam, so even the colours the artist chose were meant to uplift the soul."
This year, Eid al-Fitr – the Festival of Breaking the Fast – begins in mid-April. The stamp was issued today so it can be used to send greetings before the festival. Eid al-Adha, or the Festival of Sacrifice, marks the end of the Hajj pilgrimage to one of the holiest sites in Islam – the Kaaba in Mecca, Saudi Arabia. In 2023, Eid al-Adha begins in late June. Celebrated by more than one million Muslims in Canada, both events can last several days and include communal prayers and feasts, visits with family, gift-giving and acts of charity.
Celebrating Canada's culturally diverse population
The 2023 issue is Canada Post's fifth Eid stamp; the others were issued in 2017, 2020, 2021 and 2022.
The Eid stamp is one of several stamps Canada Post issues each year to mark annual celebrations important to Canada's culturally diverse population – others include Diwali, Hanukkah and Christmas.
The new stamp and collectibles are available at canadapost.ca and postal outlets across Canada. Here are links to find images of the Eid stamp and other products, our Details magazine and other resources:
– 30 –
For more information:
Media Relations
613-734-8888
media@canadapost.ca
TM Trademark of Canada Post Corporation