Stamp marks founding of Royal Canadian Mounted Police
Recognizing 150th anniversary of the historic institution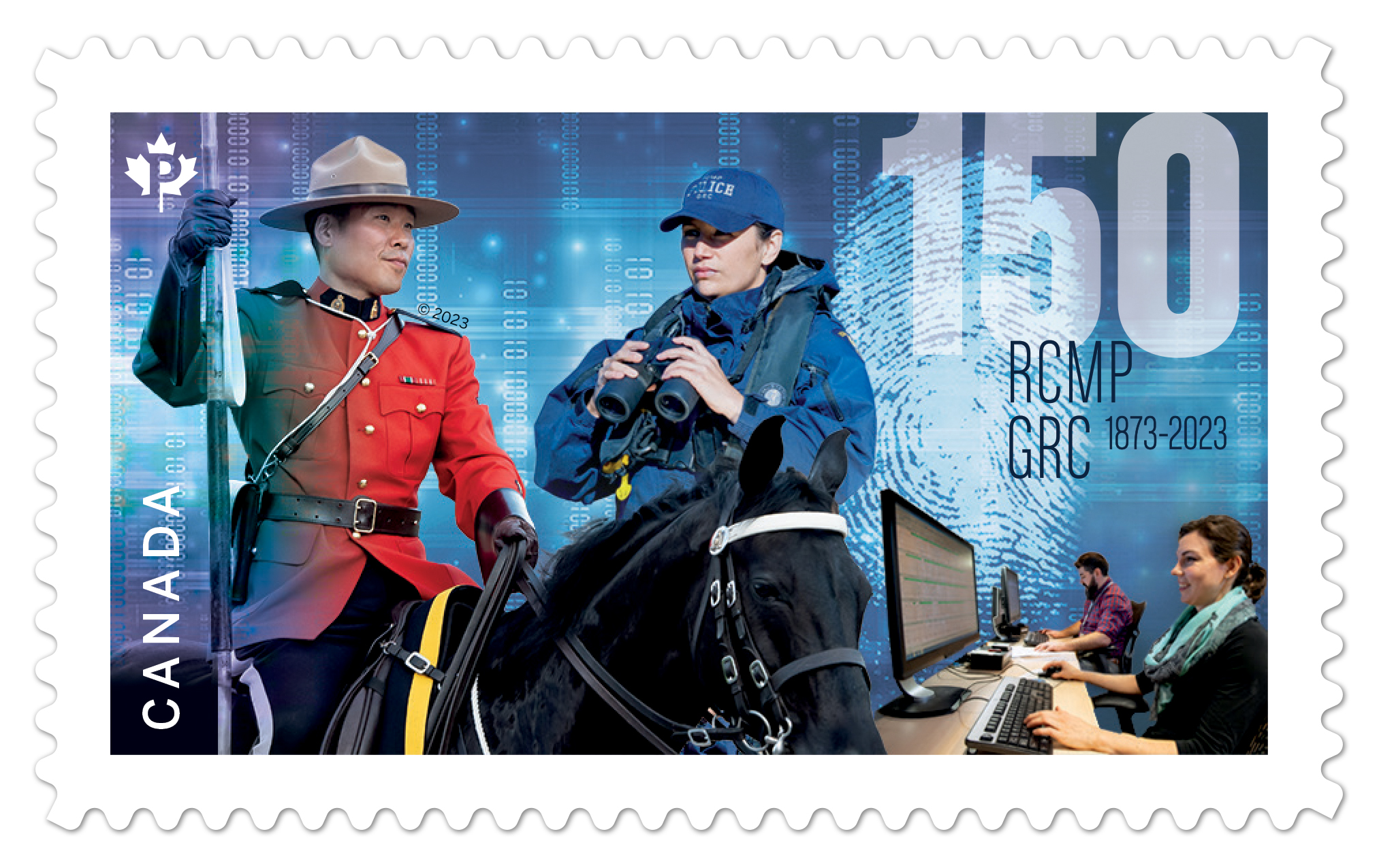 OTTAWA – Canada Post issued a new stamp today recognizing the Royal Canadian Mounted Police (RCMP) on the 150th anniversary of its establishment in 1873. The stamp design features a member of the RCMP in traditional dress, acknowledging the historic roots of the organization, along with images that represent the RCMP as a modern national police service – including the role of its civilian members and public service employees – from responding to emergencies to investigating cybercrime.
Commemorating 150 years of history
As part of our stamp program, Canada Post has a tradition of paying tribute to significant milestones, events and individuals' contributions in Canadian history. Founded on May 23, 1873, as the North-West Mounted Police, the RCMP has played a significant role in Canada over the past 150 years.
Originally assembled near Winnipeg, Manitoba, in 1874, a mounted unit of 300 men recruited from Ontario, Quebec, New Brunswick and Nova Scotia, with local Métis guides, set out on the "March West." The purpose of the organization at that time was to administer the laws of Canada in the Northwest Territories after the transfer of jurisdiction from the British Crown. In the following decades, the role and mandate of the organization changed as it gradually took on policing duties in more provinces and territories, along with federal responsibilities.
Today, RCMP employees serve in a wide range of functions that include preventing and investigating crime; enforcing federal, provincial and territorial law; protecting national security and contributing to international intelligence-sharing and peace operations.
"Canada Post's iconic national stamp program has a tradition of marking historical moments, events and individuals' [contributions] that have played an important role in Canada's history. This includes the historic anniversary of the RCMP, which has played a significant role in our country over the past 150 years."
— Doug Ettinger, President and CEO of Canada Post

"The RCMP is very proud to be honoured with a special stamp for our 150th anniversary. The stamp is a fitting tribute to both the heritage of our organization and to the amazing people who proudly serve the RCMP today and who dedicate their careers to keeping Canada safe."
— Mike Duheme, RCMP Commissioner
About the stamp
The Royal Canadian Mounted Police 150th Anniversary stamp was designed by Réjean Myette, and the design features a collage of imagery representing the modern RCMP organization. Printed by Lowe-Martin, the issue includes a booklet of six PermanentTM domestic rate stamps and an Official First Day Cover cancelled in Ottawa.
The new stamp and collectible are available at canadapost.ca and postal outlets across Canada.
For links to images of the stamp and other products, Details magazine and other resources:
– 30 –
For more information:
Media Relations
613-734-8888
media@canadapost.ca
™ Trademark of Canada Post Corporation