New stamp honours Nellie Cournoyea, the first Indigenous woman to lead a provincial or territorial government in Canada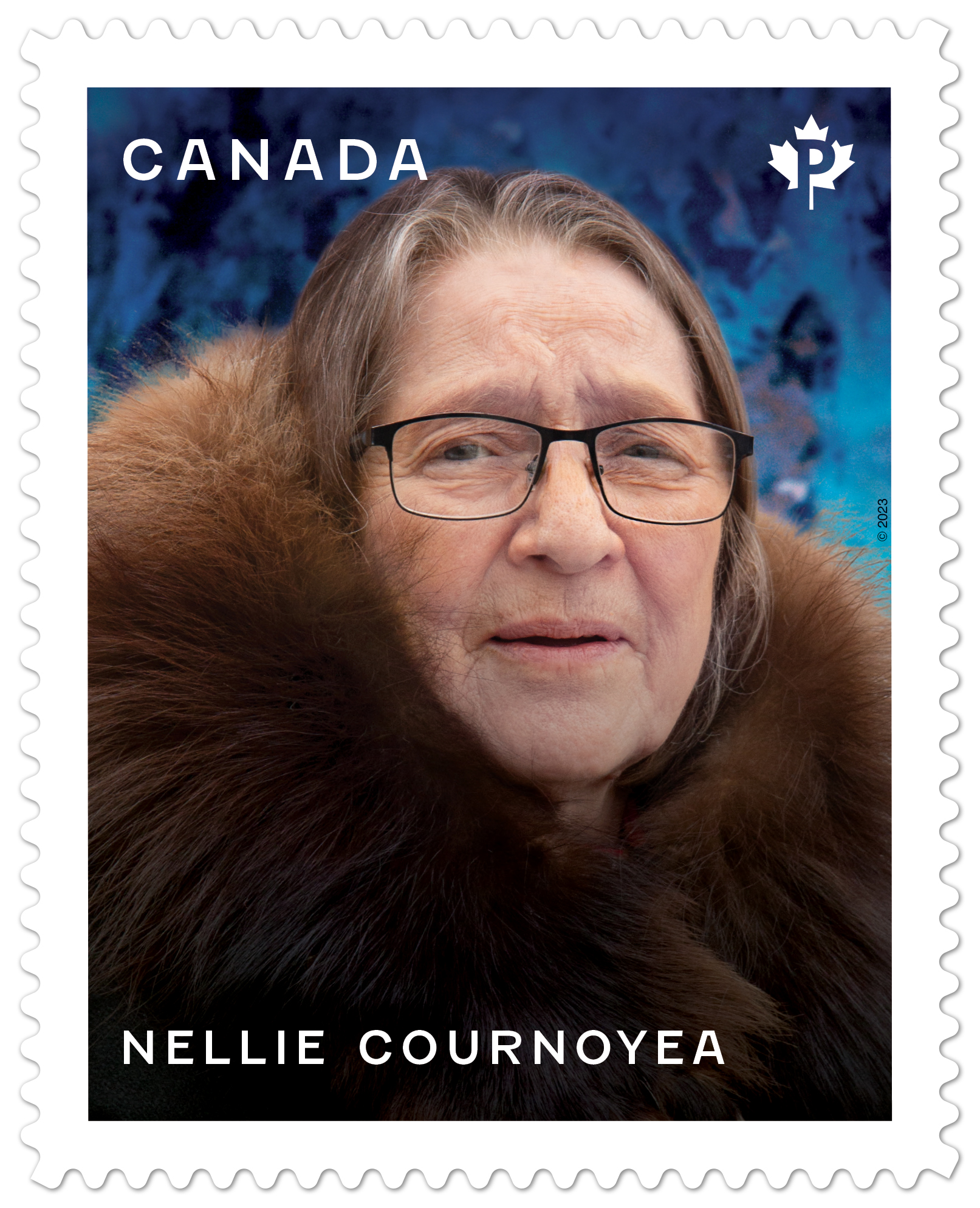 Cournoyea fought for Indigenous self-determination while leading numerous organizations, including the Inuvialuit Regional Corporation and the Committee for Original Peoples' Entitlement.
This news release is also available to read in Inuinnaqtun and Sallirmiutun.
ULUKHAKTOK, Northwest Territories – Today, Canada Post unveiled a stamp honouring the life and work of Nellie Cournoyea, at a community event in Ulukhaktok.
Champion of her people – the Inuvialuit of Canada's western Arctic – Nellie Cournoyea is known for the unwavering vision, work ethic and heart that have guided her fight for Indigenous self-determination and Inuit empowerment. She became the first Indigenous woman, and second woman, to head a provincial or territorial government in Canada, as Premier of the Northwest Territories (1991-95).
This stamp is one of three Indigenous Leaders stamps that will be released on June 21. The set is the second in Canada Post's multi-year Indigenous Leaders series.
The life and legacy of Nellie Cournoyea
Nellie Cournoyea was born in Aklavik, Northwest Territories. Her father was a trapper and immigrant from Norway; her mother, an Inuvialuit (or Inupiaq) woman from Herschel Island, Yukon.
Cournoyea grew up living a traditional lifestyle, completing most of her education by correspondence courses sent to her family's bush camp. She embarked on a career in radio and, later, as a land claims fieldworker.
As co-founder of the Committee for Original Peoples' Entitlement, she helped negotiate the ground-breaking Inuvialuit Final Agreement, which included a land settlement of more than 90,000 square kilometres.
Cournoyea was elected to the legislature in 1979 and held many ministerial portfolios prior to her selection as Premier. She played a significant role in the discussions leading to the creation of Nunavut and, after leaving office, headed the Inuvialuit Regional Corporation for 20 years.
An Officer of the Order of Canada, Cournoyea is now in her 80s and remains active as chair of the Nutrition North Canada Advisory Board and vice-chair of the Tuktoyaktuk Community Corporation.
About the stamp
Cancelled in Aklavik, Northwest Territories (Cournoyea's birthplace), the stamp features a photo of Cournoyea taken in 2022 by Peggy Jay. The Official First Day Cover and the inside of the booklet feature a photograph of Cournoyea taken in 1993 by Tessa Macintosh. That image is superimposed over a photograph taken at Trout Lake, Northwest Territories, by Robert Postma.
The cancellation mark, illustrated by Tania Willard, is a white (or Arctic) fox, one of the symbols on the Northwest Territories coat of arms.
About the Indigenous Leaders stamp series

Launched in 2022, the multi-year Indigenous Leaders stamp series highlights the contributions of modern-day First Nations, Inuit and Métis leaders. These extraordinary people dedicated their lives to preserving their cultures and improving the quality of life of the Indigenous Peoples in Canada.
This year, on National Indigenous Peoples Day, Canada Post will issue stamps honouring Indigenous leaders Nellie Cournoyea, George Manuel and Thelma Chalifoux.
The two other stamp unveilings this week:
On June 12, the stamp paying tribute to George Manuel will be revealed at an event in North Vancouver, British Columbia.
On June 13, the stamp honouring Thelma Chalifoux will be presented at an event in St. Albert, Alberta.
The new stamps and collectibles will be available at canadapost.ca and postal outlets across Canada beginning June 21.
For links to images of the stamps and other products, Details magazine and other resources:
- 30 -
For more information:
Media Relations
613-734-8888